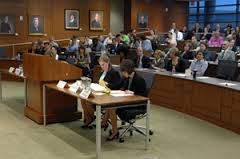 The Jenkins Honors Moot Court Competition is an appellate moot court competition for Marquette law students and the capstone event of the intramural moot court program. Students are invited to participate based on their top performance in the fall Appellate Writing and Advocacy course at the Law School.
Congratulations to the participants in the 2015 Jenkins Honors Moot Court Competition:
Lindsey Anderson
Samuel Casson
Larissa Dallman
Alexandra Don
Mary Ellis
Olivia Fitzgerald
Christopher Guthrie
Tyler Helsel
Nolan Jensen
Ian Kalis
Jeremy Klang
Christopher Little
Lauren Maddente
Daniel Murphy
Averi Niemuth
Andrew Otto
Alexander Perwich
Natalie Schiferl
Jacob Shapiro
Kyle Thelen
Nicole Ways
Bryan Whitehead
Students will begin writing their appellate briefs in January with the rounds of oral argument commencing later this spring. The competition includes preliminary oral argument rounds (March 21 and 22) and a semifinal (March 26) and final round (April 1).
The Jenkins competitors are fortunate to have the opportunity to argue before distinguished members of the bench and bar from Wisconsin and beyond.
The competition is named after the James G. Jenkins, the first Marquette Law School dean.