As I discussed in this post, Wisconsin has achieved one of the nation's higher rates of reduction in imprisonment over the past decade. To be sure, New York, California, and a few other states have far outpaced Wisconsin in this regard, and Wisconsin's prison population remains nearly ten times larger than it was in the early 1970s. Still, we may appreciate some overall net progress in the Badger State's numbers since the mid-2000s. As indicated in the chart after the jump, reduced imprisonment of drug offenders has played a central role in driving this trend.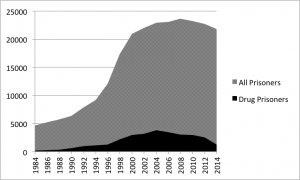 The chart tracks Wisconsin's mid-year prison population in even-numbered years since 1984, with the numbers derived from reports by the Legislative Fiscal Bureau.
The drug portion of the prison population remained small and consistent between the early 1970s and the mid-1980s, then rose sharply and consistently for about two decades. These increases corresponded with an explosion in arrests for cocaine distribution, the adoption of several new tough-on-drugs sentencing laws, and the elimination of discretionary parole release.
The trend reversed after 2004. Between mid-2004 and mid-2014, there was a net decrease in drug prisoners of about 2,600. Over the same time, Wisconsin's total prison population declined by 1,085.
If we change the time frame from mid-2008 to mid-2014, the overall reduction in imprisonment is a somewhat more impressive 1,792. But even this was overshadowed by the 1,827-person drop in drug imprisonment over the same time period. In other words, if drug imprisonment had held steady between 2008 and 2014, Wisconsin's prison population would not have shrunk at all.
The recent decline in drug imprisonment likely results from a variety of different causes, much as did the earlier increase. One contributor, for instance, was likely the Legislature's adoption of the Treatment Alternatives Diversion program in 2005. TAD provides state grant funding to counties in support of local diversion-from-incarceration initiatives. Last year, researchers at the University of Wisconsin Population Health Institute conducted a study of TAD's impact between 2007 and 2013, and calculated that TAD had averted more than 90,000 prison days.
Cross posted at Life Sentences.