On Monday morning, we were off for a quick stop at the open air market at Machane Yehuda and then a tour of the Supreme Court.  And then we had the distinct treat of our own personal tour of Lifta, a destroyed Palestinian village since 1948 right on the outskirts of Jerusalem.  Leading our tour was Daphna Golan, professor of law at Hebrew University and director of the Minerva Human Rights Program.  Daphna was also a co-founder of B'Tselem, one of the first human rights organizations in Israel promoting Palestinian human rights.  In short, she is a human rights activist extraordinaire.  She is also a big believer of experiential learning and decided that rather than giving us a lecture in a classroom, she would take us on a field trip.  It was amazing!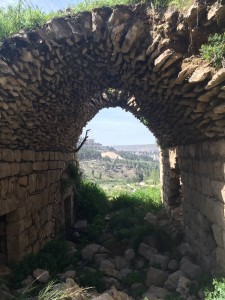 Student Adam Marshall recounts his experience:
"Our trip to Lifta was arguably the best spontaneous adventure I have ever taken. While on the outskirts of Jerusalem, we were met by Daphna Golan, who is a professor at Hebrew University. Instead of sitting in another lecture and hearing from another professor, she decided that we needed to experience this part of Israel up close. What started off as a seemingly normal walk and talk quickly turned into a breath-taking experience of a historic and neglected Palestinian village.
"As we walked through the beautifully overgrown and crumbling village, I couldn't help but be amazed at the historic value sitting here. This was a former Palestinian village, but the inhabitants were forced out of their homes in 1948. Since the war of 1948, the Palestinians have not been able to return to their homes and the village has been left in ruins. Instead of being protected as a historic site, or being used for the return of Palestinians to their homes, the village is now a place where the youth gather to smoke hookah, sit in the natural hot spring, and sunbathe.
"We were told about plans to demolish the area and build a huge shopping center and hundreds of expensive villas that only the rich could afford. This would be a problem for a lot of people, because wealthy Americans usually buy these villas and only come to Israel for one week a year, leaving them deserted the rest of the time. Daphna told us about the efforts to stop the development and get the site declared a UNESCO heritage site. She said progress was being made toward preservation. One important structure is a stone mosque that has been there for hundreds of years. Standing in that mosque and hearing about the history of the village would make almost anyone want to preserve this beautiful piece of history.
"Lifta was one of my favorite parts of the trip because it was an unexpected adventure through a village that is centuries old and holds millions of stories.  I hope to read about the success of preserving this area, or at the very least protecting some structures, including the beautiful mosque."
Student William Simonsick used the excursion to Lifta to ponder the meaning of the site:
"There was an odd tranquility in the air. A couple of birds chirping, some leaves rustling in the breeze, but nothing to demarcate what this place means. It was so easy to be lost in the moment, to reflect, to meditate; the sounds of the valley below fail to reverberate through the brick and mortar ruins. In a lot of ways, Lifta represents much of modern Israel: a moment of tranquility within the beautiful and old, which peers out to a modern dual carriageway. Much like Lifta's serene, thousand-year-old pond, it is fitting that one of the most recent battles between the old and the new will play out at this very location. Lifta, the ruins of an Arab village that is old enough to have felt the footsteps of Jesus, spent the last decade threatened. By what? As is the story in the modern complexity that is the state of Israel, this enclave of the ancient was threatened by . . . wait for it . . . a shopping mall.
"See, when we from the Western Hemisphere think of Israel, we think of religious landmarks and, well, ancient ruins such as Lifta. But modern Israel, like the highways criss-crossing the valley below, is an intersection, an intersection of our vision and modern infrastructure and society. There is a great housing shortage in modern Israel, along with overcrowded transport, which makes for a nation with modern problems. To someone from a less enchanted, less historic town, the thought of replacing a village that is thousands of years old with nothing more than condos and an Aldi sounds truly abhorrent, but this is the way of modern Israel. There is no other place that I have ever been where looking at either a  modern city or a historic setting that nearly predates modern civilization is determined merely by how far one tilts their head. Lifta is such a place.
"In the end, the story of Lifta is as happy as a conflict-ruined cluster of ancient buildings could be; the building project has been stopped, scoring a point for ancient Israel. But the story to be learned still exists; modern Israel is a state of paradoxes, a society ingrained in the old, but eager for the new."