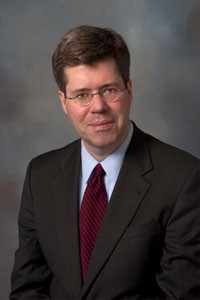 On October 8, Dean Joseph Kearney received the 2015 Faithful Servant Award from the St. Thomas More Lawyers Society of Wisconsin.
Dean Kearney was honored for many reasons, including his expansion and support of the Marquette Volunteer Legal Clinic, his commitment to a culture of public service, and his efforts to ensure that the Law School serve as a public forum for discussion and debate. Justice Janine Geske introduced Dean Kearney, emphasizing his longstanding dedication to law students, faculty and staff, the community, and the legal profession. Student Windsor Wrolstad, president of the student chapter of the St. Thomas More Lawyers Society, presented the award.
The Faithful Servant award honors an individual "who, in the course of religious, legal, community, public or human services, has exemplified in outstanding fashion the commitments and steadfast dedication of Thomas More, first to Almighty God, and to family life, statesmanship, and the law."
The dean is also giving the Archdiocese of Milwaukee's Pallium Lecture on Wednesday, October 21 at 7:00 p.m. at Mount Mary University. The topic is "The Supreme Court and Religious Liberty," and the public is welcome.
Congratulations, Dean Kearney.