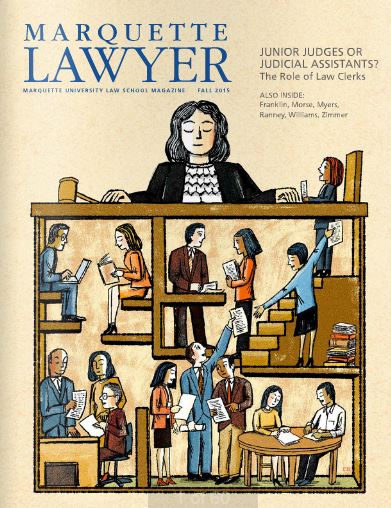 Judicial assistants or junior judges? That was the key question at a recent gathering at Marquette Law School of experts on the role of law clerks who work for judges in many courts, including U.S. Supreme Court justices. The Fall 2015 Marquette Lawyer magazine highlights excerpts from the presentations at that conference in a cover story that sheds light on the important but rarely spotlighted role of clerks (the full symposium is available in the Law Review).
Shedding light is also a prime goal of several other pieces in the new magazine.
Charles Franklin, professor of law and public policy and director of the Marquette Law School Poll, examines the muted level of support that Gov. Scott Walker received from Wisconsin voters during his unsuccessful bid for the Republican presidential nomination. Weak support from independent voters receives particular attention from Franklin in his piece, "Downtown on the Home Front."
Joseph A. Ranney, Marquette Law School's Adrian P. Schoone Visiting Fellow, is working on a book about the role that states have played in the evolution of American law. In several pieces posted on the Marquette Law School Faculty Blog and printed in the new magazine, Ranney sheds light on the Badger state's legal past, describing "Wisconsin's Legal Giants."
Stephen J. Morse, Ferdinand Wakeman Hubbell Professor at the University of Pennsylvania Law School, delivered the George and Margaret Barrock Lecture at Marquette Law School during the past academic year. "The Perils of Promise of Law and Neuroscience" offers an excerpt from Morse's work on what role neuroscience can and should play in criminal justice.
Michael J. Zimmer, a Marquette lawyer himself, offered some lessons based on his impressive career, at the Marquette Law Review end-of-year dinner this past spring. Zimmer, a professor of law at Loyola University Chicago, passed away this fall, adding poignancy to the wisdom in "You Never Know Where Your Career Will Take You."
Joseph D. Kearney, dean and professor of law, spoke at a recent meeting of the Western District of Wisconsin Bar Association in support of a proposal endorsed by the State Bar of Wisconsin to amend the Wisconsin Constitution with respect to Wisconsin Supreme Court elections. "The Wisconsin Supreme Court: Can We Help?" describes the proposal and why Kearney thinks it commendable.
Phoebe W. Williams, L'81, associate professor emerita at Marquette Law School, describes reasons for her gratitude upon receiving the Milwaukee Bar Association's Lifetime Achievement Award in remarks included in the new magazine.
One unconventional approach in this magazine: There is no dean's column. Instead, Daniel J. Myers, the new provost of Marquette University, offers thoughts in a message, "Of Foxes, Hedgehogs, and Marquette Law School."
Also in the magazine, the Law School News section highlights recent programs at Eckstein Hall and the naming of Dave Strifling as director of an expanded Water Law and Policy Initiative at the Law School.
The Class Notes section includes profiles of Grant Langley, L'70, Milwaukee's longtime city attorney; Kathie Buono, L'86, general counsel of Briggs & Stratton; and Jack Miller, L'78, who has spent much of his time in Alaska's wilderness while practicing law in Anchorage.
The full magazine may be found by clicking here (PDF) or here (interactive). Past issues are available here.