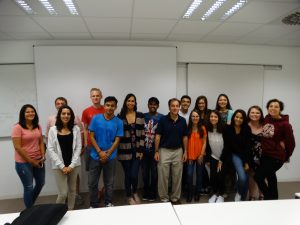 Just one week remains in the 8th Annual Summer Session in International and Comparative Law taking place in Giessen, Germany.  In the photo you can see me with some of my students in the Comparative Constitutional Law class.  It is a great group, mixing U.S. students from Marquette and the University of Wisconsin Law Schools (and one attendee from Touro Law School in New York) with students from Brazil, Italy, India, Russia and Georgia.  We had fun comparing the constitutions of our home countries and talking about the ways that the preambles of the various constitutions reflected similar yet different values.  For example, India's Constitution is adamant that the national government is secular in nature — reflecting that countries enormous diversity of religious faiths and unfortunate history of religious strife.  Meanwhile, Russia's Constitution is clear that the union of nations into one country is permanent unless unanimously dissolved, in a way that reminds me of Abraham Lincoln's view of the United States.
After two weeks with me and Professor Thilo Marauhn from Justus Liebig University Law School, discussing and comparing topics related to constitutional structure, we turned the class over to Professor Heinz Klug of the University of Wisconsin and Professor Ignaz Stegmiller from Justus Liebig University Law School.  They focused on comparing civil rights and liberties under various constitutional systems.  All in all, a very thought-provoking course.
The 40 participants in the program had three other classes to choose from.  Professor Sorcha Macleod of the University of Sheffield in England has been teaching a fascinating course on  Business Ethics and Human Rights.  To get a sense of the topic, here is a YouTube video of her presenting a talk in 2014 entitled "Who Made Your Trainers?" (or in American parlance, "Who Made Your Tennis Shoes?").
MU Law's own Professor Doug Smith has been teaching a course in Comparative Corporate Law, examining the ways in which corporate governance differs among the various forms of business entities around the world.  And Professor Michael Weiss has been teamed with Professor Thilo Marauhn in teaching a course on International Economic Law and Business Transactions.  There was an overall focus on the world economy in this year's slate of courses, which was of particular interest to some of the students from Vietnam, Cameroon and, for the first time in our program's history, North Korea.
We are proud to offer classes with real substance that count for law school credit.  And we are pleased to provide a comfortable and fun learning environment in the pleasant college town of Giessen, Germany.  But what makes me so happy to be a part of this program each year is to see the many friendships that form over the course of four weeks among law students from all over the world.
I am already looking forward to the Ninth Annual Summer Session next year.  I hope that many of you reading this post will join me.