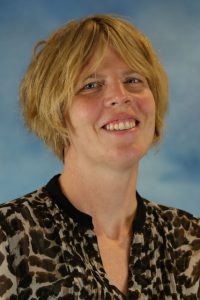 The 24th Annual Howard B. Eisenberg Do-Gooders' Auction on behalf of the Law School's Public Interest Law Society (PILS) will be held on February 17 at the Law School. Proceeds from the event go to support PILS Fellowships to enable Marquette law students to do public interest work in the summer. Elisabeth Thompson, a current law student, shares her experience here as a PILS Fellow.
Where did you work as a PILS Fellow?
The ACLU of Wisconsin.
What kind of work did you do there?
Most of my work was legal research and writing.  I prepared two big pre-litigation memos, both in areas of substantive law to which I'd not been previously exposed.  I also drafted a complaint and wrote a number of on-the-fly memos on an array of legal questions, and I got to participate in some meetings with clients.
How was the experience meaningful to you?
The cases I worked on were incredibly meaningful.  They were timely; they were high-impact; they were rooted in the local community but had national resonance.  My work helped lay the groundwork for litigation that will raise awareness and advance justice.  This was motivating to me.  It also speaks to the value of the PILS fellowship; the funds that enabled me to spend the summer at the ACLU contributed directly to advancing their important work.
What did you learn in the course of your work?
The experience gave me an expansive view of the landscape of law.  I worked on both federal and state law questions, and learned a lot about administrative law.  I learned how to think through federal circuit splits and ambiguous Wisconsin statutes.  The attorneys with whom I worked were tremendous teachers.  They subjected my work to wonderfully rigorous editing — on the level of structure and analysis, not just proofreading.  I learned so much from their feedback.  And I cherished the opportunities to sit with them and think through the legal problems that were raised by my research assignments, and to listen to their thought processes as they discussed litigation strategy.
What do you like best about doing public interest law work?
The two fundamental drives that have set the course of my life (for good or ill) are idealism and intellectual curiosity.  That combination has led me down a winding path; finding public interest law feels a bit like coming home. At its core, the work is about the human experience.  It's learning deeply about people's lives (struggles as well as dreams and potential..) and how they've been shaped by history and institutions.  Then it's looking closely and creatively at the law, figuring out how to make its power and its protections work for people living all these diverse kinds of lives.
What are you doing to help with the PILS Auction?
I'll be helping set up during the day and working in various capacities all evening.  I'm looking forward to seeing everyone there.