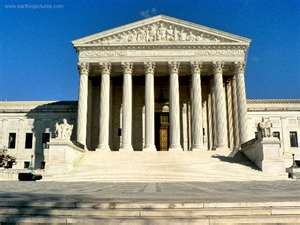 As part of its end-of-term flurry, the U.S. Supreme Court issued three notable decisions in the past week on the criminal defendant's right to effective assistance of counsel. The results were a mixed bag.
First, the step forward: in Lee v. United States, the Court strengthened the defendant's right to accurate legal advice in relation to plea bargaining. Lee, a South Korean who resided lawfully in the U.S. for more than three decades, faced a federal charge of possession with intent to distribute ecstasy. His attorney advised him that he would likely get a lighter sentence if he pleaded guilty, but Lee was concerned that he would be deported if convicted; deportation, not prison, seems to have been his primary concern. Lee's lawyer assured him that he would not be deported, so Lee agreed to the guilty plea. However, the lawyer was wrong — Lee faced mandatory deportation as a result of his conviction. When Lee found out, he sought to withdraw his guilty plea on the basis of ineffective assistance of counsel.
The lower courts rejected his motion. For Lee to show a violation of his constitutional right to effective assistance of counsel, he was required to demonstrate both deficient performance by this attorney and prejudice. The lower courts seemed to accept that Lee's lawyer performed poorly, but held that Lee could show no prejudice since he had no viable defense if the case had gone to trial. In other words, even with better information, Lee would have been convicted and deported anyway.
The Supreme Court reversed, holding that prejudice can be established in some cases based on the lost opportunity to have a trial, without regard to the likely outcome of that trial. 
More specifically, the Court held that
when a defendant claims that his counsel's
deficient performance deprived him of a trial by causing
him to accept a plea, the defendant can show prejudice by
demonstrating a reasonable probability that, but for
counsel's errors, he would not have pleaded guilty and
would have insisted on going to trial.
The Court further ruled, in "the unusual circumstances of this case," that Lee had satisfied the prejudice test.
I suspect there will be few other cases in which the record is as clear as it was in Lee that the defendant really did care more about a "collateral consequence" of his conviction than the formal sentence itself. However, depending on its elaboration in future cases, the Court's approach in Lee may prove to be a significant relaxation of the prejudice test. Earlier decisions focused on the defendant's likely success at trial, but Lee recognizes that sometimes it makes sense for a defendant to try to throw a "Hail Mary" — the Court's own phrase — and such defendants should be given a fair opportunity to do so.
In contrast to Lee, the Court's decision last week in Weaver v. Massachusetts reinforced the prejudice prong. During jury selection for Weaver's trial on a murder charge, court officials closed the courtroom to the public in light of space constraints. Defense counsel neither objected at trial nor raised the issue on appeal, even though the closure at least arguably violated Weaver's Sixth Amendment right to a public trial.
In later post-conviction proceedings, Weaver argued that his lawyer had been ineffective for failing to protect his right to a public trial. The trial court agreed both that the courtroom closure had been unconstitutional and that trial counsel's failure to object amounted to deficient performance. However, Weaver was denied a new trial because he failed to show that he suffered any prejudice from the unconstitutional court closure.
In appealing this decision to the United States Supreme Court, Weaver relied on the established principle that improper courtroom closure is "structural error" — that is, if an appellate court determines that the right to a public trial was violated, the defendant is entitled to a new trial without regard to the likelihood of a different outcome.
The Supreme Court rejected Weaver's argument. Although improper courtroom closure may be a structural error, that principle comes into play only when the defendant is directly challenging a closure. Weaver was doing so indirectly, through an ineffective assistance of counsel claim. (Presumably, Weaver had waived his ability to challenge the closure directly because his lawyer did not object at trial or raise the issue on direct appeal.) When a defendant frames his public trial claim in the way that Weaver did, the normal two-part test for ineffective assistance of counsel (performance and prejudice) governs.
The Court's holding may spell the end for ineffective assistance claims that are based on a failure to object to courtroom closure. It will normally be extremely difficult for a defendant to show prejudice — that is, a reasonable probability of a different trial outcome — in these cases. Indeed, the Court itself acknowledged that the very reason courtroom closure has been deemed a structural error is due to the inherent "difficulty of assessing the effect of the error." The message to defendants seems to be this: If your lawyer does not make a timely objection to a denial of your constitutional right to a public trial, then you are simply out of luck.
The major open question raised by Weaver is which other types of structural error will be handled the same way. Structural errors include, for instance, violations of the defendant's right to represent himself, to select his own lawyer, to have court-appointed counsel if indigent, and to have the jury instructed about the reasonable doubt standard. The Weaver Court took pains to say that its decision applied "specifically and only in the context of trial counsel's failure to object to the closure of the courtroom during jury selection." Still, the Court's reasoning opens the possibility that the case might ultimately apply more broadly.
The final case in the Court's new ineffective-assistance trilogy, Davila v. Davis, also resulted in a defendant loss. The issue in Davila is one that arises in narrow and somewhat procedurally convoluted circumstances. The opening two paragraphs of the Court's opinion lay out the issue and its resolution in a nicely succinct way:
Federal habeas courts reviewing convictions from state courts will not consider claims that a state court refused to hear based on an adequate and independent state procedural ground. A state prisoner may be able to overcome this bar, however, if he can establish "cause" to excuse the procedural default and demonstrate that he suffered actual prejudice from the alleged error. An attorney error does not qualify as "cause" to excuse a procedural default unless the error amounted to constitutionally ineffective assistance of counsel. Because a prisoner does not have a constitutional right to counsel in state postconviction proceedings, ineffective assistance in those proceedings does not qualify as cause to excuse a procedural default. See Coleman v. Thompson, 501 U.S. 722 (1991).

In Martinez v. Ryan, 566 U.S. 1 (2012), and Trevino v. Thaler, 569 U.S. 413 (2013), this Court announced a narrow exception to Coleman's general rule. That exception treats ineffective assistance by a prisoner's state postconviction counsel as cause to overcome the default of a single claim—ineffective assistance of trial counsel—in a single context—where the State effectively requires a defendant to bring that claim in state postconviction proceedings rather than on direct appeal. The question in this case is whether we should extend that exception to allow federal courts to consider a different kind of defaulted claim—ineffective assistance of appellate counsel. We decline to do so.
To put it differently, under Martinez, a defendant gets at least one fair shot to challenge the competence of his trial lawyer with the help of a second lawyer who is competent. But, under Davila, a defendant is not entitled to competent legal assistance in challenging the competence of his appellate lawyer. This may prove a significant weakening of the constitutional right to effective assistance of counsel on appeal.
What to make of all this? Views on the court regarding effective assistance are clearly divided. At least two justices dissented in each of the three cases. Chief Justice Roberts and Justice Kennedy were the only two justices to vote with the majority in all three cases. They seem the key swing votes.
Why did Roberts and Kennedy side with the defendant in Lee, but with the government in the other two cases? At least two aspects of Lee may have been helpful to the defendant. First, there had been no trial in Lee. By contrast, in Weaver and Davila, there had been trials, and the Court in both cases emphasized the importance of preserving the finality of trial verdicts. Second, Lee emerged from a federal prosecution. Upsetting the defendant's conviction thus involved no federalism concerns, which often play a prominent role in post-conviction cases. By contrast, a defendant win in Weaver or Davila would have meant overturning a state-court judgment. The Davila majority, in particular, expressly emphasized federalism concerns in its opinion.
Cross posted at Life Sentences.