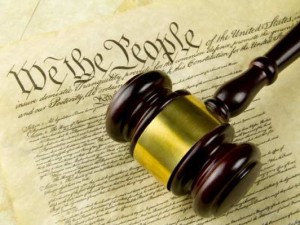 On September 17, 1787, the founders signed our United States Constitution, an event we commemorate every September 17 with Constitution Day.
Marquette University will celebrate Constitution Day on Monday, September 18. On that day, we will welcome to the Law School Wisconsin Supreme Court Justice Daniel Kelly, Wisconsin Court of Appeals Judge Brian K. Hagedorn, Milwaukee Circuit Court Judge Gwen Connolly, and Federal District Judge Lynn Adelman (Eastern District of Wisconsin). Each of the panelists will select a constitutional provision and explain why that section is meaningful to him or her. We will also highlight the National Constitution Center's new Interactive Constitution, a website that contains the entire Constitution and all of its amendments, along with commentary on each section that shows that section's history and its common understandings, along with commentary that illustrates divergent views.
The complimentary program will run from noon until 1 p.m., and there will be a light lunch and cake. This event is open to Marquette students; however, registration is required.
Constitution Day 2017 is presented by Marquette Law School and the Political Science Department. The event is co-sponsored by the student chapter of the American Constitution Society and the student chapter of the Federalist Society.