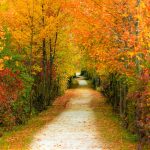 Fall in Wisconsin is a particularly beautiful time of the year. Crisp morning air, warm if windy afternoons, beautifully colored leaves, all things pumpkin spice. . . . (Okay, pumpkin spice is not exclusive to Wisconsin, but it is very fall-like.)
But law students may not be noticing the crisp mornings or the changing leaves because they're huddled in the law school or the library or their homes trying to catch up on their class readings and thinking about outlining and worrying about their summer job search. It's the time of year that law students begin to more acutely feel the stress of law school.
I wrote about falling leaves and rising stress levels exactly six years ago today, and what I said then about law school stressors still holds true today. But this morning I noticed my colleague Rachel Gurvich from University of North Carolina School of Law also posted on the "October slump" in law school, particularly focusing on 1Ls. She offers seven specific tips to help 1Ls get through this hectic time: (1) Understand that law school is a marathon, not a sprint; (2) remember that hard work alone doesn't necessarily correlate with success; (3) you do you; (4) enjoy activities outside of law school; (5) make some friends in law school; (6) tune out external noise about law school "success"; and (7) talk to your professors.
Professor Gurvich's seven tips are spot on and deserve a look, so take a break from your work and give her post a read.
And remember, this, too, shall pass.