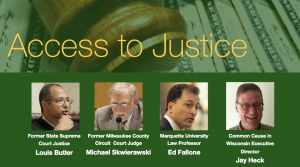 On Wednesday night, October 11th, the non-partisan organization Common Cause in Wisconsin is holding a town hall meeting/public hearing entitled "Access to Justice." Co-sponsors of the event include the League of Women Voters of Wisconsin, the League of Women Voters of Milwaukee County, and the American Association of University Women of Wisconsin.  This free event is open to the public and will take place October 11 from 6:30PM to 8:00PM at Marquette Law School in the Appellate Courtroom (Main Level).  Marquette University Law School is not a sponsor of the event.
The focus of the event will be the recusal rules that the Wisconsin Supreme Court has adopted for our state judiciary.  Wisconsin's current state recusal "non-standard" was written by the lobbyist organization Wisconsin Manufacturers & Commerce in 2010. The current rule essentially states that judges may decide for themselves whether to recuse themselves in a case involving a donor or special interest group who made campaign contributions to that judge.
This past April, the Wisconsin Supreme Court discussed a petition by 54 retired Wisconsin judges to establish reasonable thresholds for recusal of trial and appellate judges when they receive campaign contributions from a defendant or plaintiff – or if they benefited from spending by an "outside" special interest group involved in a case before their court.  The State Supreme Court voted 5 to 2 to reject this petition, and the Court did so without any input from the public.
The purpose of Wednesday night's event is to educate persons in attendance on the issue of judicial recusal rules and to seek public input on possible reforms.  I will be one speaker at this event, along with former State Supreme Court Justice Louis Butler, former Milwaukee County Circuit Court Judge Michael Skwierawski, and Jay Heck from Common Cause.
Again, this event is free and open to the public.  I hope to see you there.