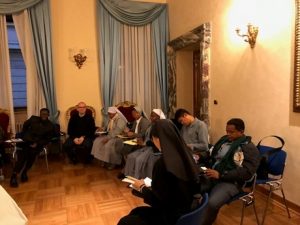 My trip to Rome in spring 2016 triggered a return visit this past November, when I again taught a segment of a certificate program addressing the Catholic sex abuse scandal.
The Pontifical Gregorian University's Center for Child Protection offers the four-month graduate certificate program to religious sisters, brothers and priests from around the world who are assigned to head up Protection for Children offices. The program goals: to teach how to deal with past abuse and prevent further incidents.
I spent a full day with 19 students representing four continents. While there were some language barriers to overcome, the group was able to comprehend the power of Restorative Justice ("RJ) presented in different contexts — particularly its value regarding sexual abuse within the Church.
I explained how in past clergy abuse cases, it is not often possible to bring victims and offenders face-to-face in dialogue because many offenders are in denial, deceased or too old, with limited memory. We, therefore, explored the hope that RJ offers in addressing "secondary victimization" by members of the Church's hierarchy.
The anger that many victims — including their family members and others — feel toward the Church as an institution can be as devastating as the anger felt toward the individual who committed the abuse. The Church's failure in so many cases to do the right thing is a betrayal that cuts deep.
My students didn't need me to explain that feeling. Their innate understanding teed up a presentation of "The Healing Circle," a documentary created at Marquette's Law School several years ago that depicts how RJ circles have been used effectively to talk candidly about sexual abuse and its devastating impact. The lesson truly began.
After the film, I facilitated a circle with all 19 students. I asked them to share a story about how they had been impacted by the clergy abuse scandal. They shared personal experiences: from an African priest reporting the crime of another priest only to have no action taken, to a religious sister in charge of a school having nobody to report to about how on some weekends, the local parish priest would take children from their dorm rooms for a few days. Another priest from an Asian country described being groomed and touched by a priest when he was a teenager. The anger and frustration were palpable.
Yet the students felt the power of the circle as an outlet for them to be heard and to listen to each other. I stressed how giving voice to victims who can truly be heard is the hope that RJ provides as a tool, which each of them could take back to their communities. I underscored how even when there is nobody to report to or nobody who will do something about a report, victims must never be discounted; listening to them is critical to help prevent secondary victimization. So too is using RJ circles to raise awareness within their communities, educating bystanders who also can be listeners and part of a systemic solution to prevent future cases. Ultimately, all of us in the Church must promote systems that will protect children and give them a place to find support and justice if they have been abused.
While the problem of child abuse in the Church is not going to go away soon, widening the circle of listening and awareness through the certificate program offered at the Pontifical Gregorian University's Center for Child Protection will make a difference. I have been invited to return and teach in the program, adding actual training in RJ processes as part of the course. Others can benefit by taking a newly developed online version of the program courses. Hope through RJ is growing.