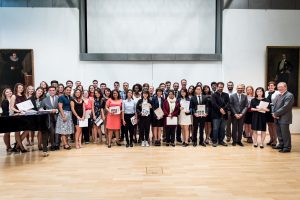 Time is running out to apply for the 2018 Summer Session in International and Comparative Law to be held over 4 weeks in Giessen, Germany (July 14 – August 11, 2018).  The tuition for the program has been reduced in the amount of $750.  Accordingly, the total amount of academic and non-academic fees for 4 Law School credits, lodging and two field trips has been reduced to only $4,350 (airfare is still the responsibility of each student).  We are very pleased to be able to provide this reduction in the total cost of the program for all of our participants.
The deadline for applications for this summer's program is March 23.  Applications will be accepted after the deadline if there is space available.  Applications can be downloaded on the following webpage:
https://law.marquette.edu/programs-degrees/international-comparative-law-germany
Additional details, including course and faculty information, can be viewed by navigating the links on the webpage.
This is a fantastic opportunity to live and learn with law students from all over the world and to take classes from an international faculty.  Don't let this chance pass you by.
See Professor Fallone if you have any questions, or email him at edward.fallone@marquette.edu .