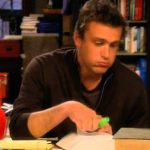 This semester in Professor Lisa Mazzie's Advanced Legal Writing: Writing for Law Practice seminar, students are required to write one blog post on a law- or law school-related topic of their choice. Writing blog posts as a lawyer is a great way to practice writing skills, and to do so in a way that allows the writer a little more freedom to showcase his or her own voice, and—eventually for these students—a great way to maintain visibility as a legal professional. Here is one of those blog posts, this one written by 2L Margaret Johnson.
It's no secret that finals are just around the corner and that studying for finals in law school can be unpleasant at best and excruciatingly painful at worst. While I can't guarantee any of these products will help you snag an honors grade, these are my favorite products for making the studying process more bearable – or at least more productive.
Colored Pens and Highlighters
If you're a pen-snob like me, nothing makes note-taking more enjoyable than a set of colorful pens to brighten up my outline and flashcards. If you're looking for variety of fine-point gel pens that don't smudge, look no further than KACO Retractable Gel Ink Pens. If you prefer pens that write more like a marker, check out the Huhuhero Fineliner Color Pen Set, which includes 10 colorful pens that write smoothly and clearly without smudging.
Highlighters
Highlighters are great for color-coding different types of information in your outlines when studying for finals. Sharpie Clear View Highlighters offer vibrant colors and the clear tip allows you to neatly and evenly highlight across the page without smudging the page or getting ink on your hands.
Notecards
Flashcards are great for rule-based classes like Civil Procedure or Evidence and for writing down case holdings and black-letter law. While writing out holdings and rules is time-consuming, I've found that doing so helps me remember the material that much better than just reading from my outline. Flashcards are also great for reviewing material right before your final while sitting in an anxiety-filled exam room and feeling like you need to be productive as you watch your fellow peers frantically cram. While 3×5 inch notecards might have cut it in undergrad, I recommend these 5×8 Inch Ruled White Index Cards so you can fit all of Rule 12 of the Federal Rules of Civil Procedure on a single notecard.
Book Stand
When I first started law school, I held out on buying a book stand because, as a matter of principle, I couldn't allow myself to be that nerdy. But low and behold, I found myself telling my parents I wanted a book stand when they asked what I wanted for Christmas. Nerdy? Yes. Worth it? Also yes. No longer are my neck and shoulders always sore from the strain of looking down at my textbook and taking notes has become a much more efficient process now that I'm not glancing up and down between my textbook and my computer.
Accept the fact that you're nerdier than the average student and get your book stand here.
Noise Cancelling Ear Plugs & Headphones
Nothing is more obnoxious or distracting when you're trying to study than listening to someone eat crunchy food or pound on their keyboard. Minimize your distractions and save what little sanity you have left with noise-cancelling ear plugs or headphones. If you're gifted enough to be able to focus while listening to music, you can't go wrong with this Mpow Bluetooth Wireless Headset which has the impressive sound quality of a pair of Beats by Dre without the hefty price. If you're a mere mortal like me who needs silence to concentrate while studying, try these HUSH Ear Plugs which are both noise cancelling and reusable.
Binders
Binders are essential for keeping your outlines and handouts in order, particularly during an open-note final when you're frantically flipping between sections of your outline to find the answer to your professor's obscure question. Save yourself time and serious panic by utilizing a binder to keep your materials in order with a pack of 3-ring binders, and even consider using these dividers to separate your materials into easily accessible sections.
Examples & Explanations Books
The Examples & Explanation series is great when you need a clear explanation and analysis of difficult and convoluted concepts in simple, concrete terms. The Examples & Explanation series also provides hypothetical situations and fact patterns which allow you to test your understanding of the material. There's no question that the Civil Procedure Examples & Explanations provided me with enough of an adequate understanding of joinder to pass the class and it can do the same for you.
Insulated Tumbler Cup
I won't tell you what to drink after finals are over, but water intake is key for mental performance during finals. Poor hydration can negatively affect your brain's ability to transmit and receive information as well as your memory, attention, and concentration. Stay quenched with this Ozark Trail Tumbler Cup, which will have your water ice-cold throughout the whole day.
Computer Charger
A few hours before my Property final, my computer charger stopped working, leaving me in an absolute, unnecessary panic. Luckily, I have a hero of a dad who drove two hours to bring me a new charger. Spare yourself the panic and make sure your computer charger is in prime condition and that all necessary updates to your computer have been made prior to exam day. And if you prefer to err on the side of caution, consider buying yourself a back-up charger so you don't drive yourself crazy with another "what if" situation when thinking of everything that might go wrong during an exam.
Leave a comment below and share a product that's essential to your studying process.