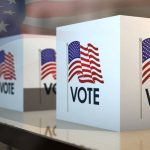 This semester in Professor Lisa Mazzie's Advanced Legal Writing: Writing for Law Practice seminar, students are required to write one blog post on a law- or law school-related topic of their choice. Writing blog posts as a lawyer is a great way to practice writing skills, and to do so in a way that allows the writer a little more freedom to showcase his or her own voice, and—eventually for these students—a great way to maintain visibility as a legal professional. Here is one of those blog posts, this one written by 2L Randy Jones.
In Wisconsin, the weather may serve as an indicator of spring. I say "may" because the weather often teases us. Most people would say indicators of spring are pollen or budding of trees, bushes, and flowers. For some, it's the lake trout (Steelhead) swimming up the rivers to spawn. But a sure indicator is political advertising, even for positions that should not be political. I began to wonder why I am seeing so many advertisements. It seemed to me that everywhere I looked, even scrolling down Facebook, I was being shown an advertisement (subconsciously) telling me to vote for Judge Rebecca Dallet for Supreme Court.
Every spring, Wisconsin has an election. Sometimes the election is for judges, for school board representative, and sometimes for state superintendent. Wisconsin has a problem: voter turnout in Wisconsin primaries has been historically low, even sometimes for a presidential race. The Wisconsin Election Commission compiles statistical data that shows data on voter turnout based on eligible voters and actual votes.
After doing a minor Google search, as most uninformed voters do, I stumbled upon an abyss of information, some seemingly credible, but others not.
Personally, I do not watch these paid advertisements, which mostly consist of trashing and bashing, even though they sometimes are comical. Sometimes the headlines are blatantly false. Some journalists have even investigated the statements by candidates further and decided to render a "decision" if those statements were mostly false, half false, half true or mostly true.
According to PolitiFact, some of the statements made during the election:
Schrenock "let a child predator walk without time and let a rapist who preyed on an underage girl go free after only an eight-month sentence." (Mostly true, according to PolitiFact.)
Dallet "has talked about her interest in advocating for policies that need to be changed to achieve her political objectives." (Also mostly true, according to PolitiFact.)
There statements are clearly political in nature and seek to send a harsh message. The harsh message is strategically meant to elicit a strong emotional response. I understand that elections are competitive, and the "name of the game" is to garner enough support for yourself and/or decrease support for the opposing candidate(s). However, most people who hear these statements will probably give the response that the harsh message intends to garner, presumably without verifying the actual truth or validity of these statements. I anticipate that the general voting population does not go into the court records in efforts to search for circumstances that may have influenced a particular judge to make their decision in any particular case.
Additional questions I wish to leave you all with are about the advertising aspect of primary elections. As we know from the current Facebook testimony on Capitol Hill, Facebook makes most of its money on ads. I agree that there is more work to be done in efforts to increase voter turnout. But advertising on Facebook is merely one of many ways to increase voter turnout. Is Facebook an appropriate medium for political advertising? Should the content be restricted in any way?
I welcome any comments, concerns, and questions.