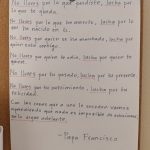 This semester in Professor Lisa Mazzie's Advanced Legal Writing: Writing for Law Practice seminar, students are required to write one blog post on a law- or law school-related topic of their choice. Writing blog posts as a lawyer is a great way to practice writing skills, and to do so in a way that allows the writer a little more freedom to showcase his or her own voice, and—eventually for these students—a great way to maintain visibility as a legal professional. Here is one of those blog posts, this one written by 2L Mariana Concepcion.
Last summer after finishing my 1L year, I was at the beach. While I was enjoying the warm Texas sun, my brother asked me, "So, what's your goal in law school?" Because it was a few days after taking my last final, I thought about answering "I don't ever want to go back." But I didn't say that, I was just really tired.
I gave the question some thought as I looked out at the sea. What was my goal in law school? Why was I going back? So, I told my brother that my goal was to find my own voice so that I could use it to help those who don't have a voice.
Find my own voice? I can talk, right? I may not be the loudest person on earth, but I have a voice. But finding my own voice wasn't just about finding my speaking voice; it was more than that. I wanted to find my own voice because that would help me become more confident in myself, something I have struggled with for most of my life. If I could find that confidence in myself then I would be able to find my voice and use my voice to speak for those who don't have a voice.
And I don't just mean finding the voice I use to talk (although that's part of it). I also mean the voice I use in my writing. Writing is where I get most of my confidence from. Without writing, I don't have a speaking voice. Without writing, I don't have any confidence.
When I first started law school, I had no confidence in my writing skills. By the time I finished, I was more confident in my writing than I had been when I first started. This newfound confidence in my writing was very strange to me. I had never been confident in anything I've done. Maybe that's what led me to tell my brother that I wanted to find my voice. For someone who has never been confident in herself, I wanted to build on the confidence I found during my first year.
Finding that confidence in law school sounds kind of weird, especially because law school is a place where confidence is tested daily. But sometimes it's the little things that make a huge difference. I never could have imagined that confidence in my writing would allow me to become more confident in myself.
But that's the reason I keep coming back. Every day, every week, and every month that I finish, I add just a little bit more to that confidence I found within me after my 1L year. That confidence has continued to build during my 2L year. It will continue to build next year and long after law school. That is my goal, not just in law school, but also in life.
We all have our own stories to tell. I won't lie, I'm a little scared to share my own. But if there's anyone who struggles with finding their own voice or confidence, I want them to know that they can find it here in law school. Or, at least that in law school they can start building up their own voice and confidence.
Just take it one step at a time.