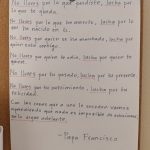 This semester in Professor Lisa Mazzie's Advanced Legal Writing: Writing for Law Practice seminar, students are required to write one blog post on a law- or law school-related topic of their choice. Writing blog posts as a lawyer is a great way to practice writing skills, and to do so in a way that allows the writer a little more freedom to showcase his or her own voice, and—eventually for these students—a great way to maintain visibility as a legal professional. Here is one of those blog posts, this one written by 2L Mariana Concepcion.
Last summer after finishing my 1L year, I was at the beach. While I was enjoying the warm Texas sun, my brother asked me, "So, what's your goal in law school?" Because it was a few days after taking my last final, I thought about answering "I don't ever want to go back." But I didn't say that, I was just really tired.
I gave the question some thought as I looked out at the sea. What was my goal in law school? Why was I going back? So, I told my brother that my goal was to find my own voice so that I could use it to help those who don't have a voice.
Find my own voice? I can talk, right? I may not be the loudest person on earth, but I have a voice. But finding my own voice wasn't just about finding my speaking voice; it was more than that. I wanted to find my own voice because that would help me become more confident in myself, something I have struggled with for most of my life. If I could find that confidence in myself then I would be able to find my voice and use my voice to speak for those who don't have a voice. Continue reading "Finding My Confidence"