On our first full morning in Tel Aviv, we turned to some (other) hard issues facing different parts of the population in Israel. Our first speaker was Mazal Bisawer, a PhD candidate and student leader at Tel Aviv University. Mazal spoke to us about the Ethiopian population in Israel—a minority within a minority—most of whom immigrated to Israel in the 1970's and 1980's. We've had visits with other Ethiopian Jews over the years (see blogs from 2017 here and 2015 here) dealing with the issue of diversity in Israel. And even on the main street in Tel Aviv, the concept of refugees is front and center with this beautiful mosaic: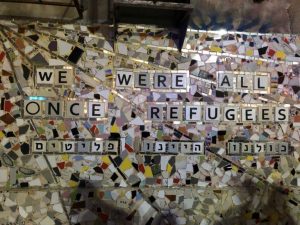 Shayla Sanders identified with Mazal's comments:
She spoke broadly about police brutality against young Ethiopian men and emphasized that while only 2% of the population in Israel, Ethiopian young people make up 60% of the population in juvenile detention facilities. I was struck in this moment with a sickening, yet somehow validating sense of déjà vu. I recognized these statistics. I know that African Americans in the US face a similar plight. In hearing her speak to some of these issues, I heard some of the same emotions I myself experience when discussing racial issues here in the US. I heard in her the same passion I feel when discussing instances of injustice against my people. I heard her pain when she told us how people would say that Ethiopians should feel lucky to only be experiencing minor levels of racism because they are the only group of black people not brought by force into a country and compelled into slavery. I felt her frustration when she emphasized that speaking out on these issues, she is often met with the same reaction as if she had stated a belief in little green aliens and UFOs… I have myself been written off as a radical idealist who plays the race card all too frequently. I have been faced with those who would rather police my tone than address and confront the truth in my statements. So, imagine my utter lack of shock when our very own tour guide immediately dismissed Mazal as radical and gave an open invitation to our tour group to take her opinion with a grain of salt not granted to any of the other speakers we had seen thus far.
This experience was immediately triggering for me. I felt insulted. Undermined. And not in the least bit surprised. Mazal had told us that he would react that way. She told us that no one wants to address these issues and would rather pretend that they do not exist, especially in the face of a predominantly white group of relatively affluent American law students. Something in that moment broke in me. I was reminded of meeting with my family in Jerusalem, who told me stories of my great grandfather's choice to ostracize my grandmother for her choice to marry a Black man in 1967. I was reduced to tears because I understood at a deeper level what Mazal Bisawer represented for so many who go silently throughout their oppression because no one is listening. She taught me that the most important thing to do is to keep speaking out, even when the truth is uncomfortable. Meeting her was the best part of my trip. Thank you Mazal. Keep Speaking up and out and I will too.
We then went to Kuchinate, an African Refugee Women's Collective, where we enjoyed the coffee and the gorgeous baskets they produced while learning their stories. Khatija Choudhry explains Kuchinate's mission:
Kuchinate is the Tigrinya word for crochet. In Tel Aviv, Israel, the word describes a collective of African women seeking not only refuge, but empowerment, community and safety. We met a number of women from the Kuchinate during our visit to Tel Aviv. These women shared with us their harrowing stories of migration to Israel. But the pain of seeking refuge does not end upon their arrival. These asylum seekers settled in Israel continue to face the same struggles that refugees and asylum seekers across the world face: inaccessibility to basic services such as health care, housing, and employment. The women we met with shared their stories of working day in and out to keep their family afloat. They shared their deepest fears for their children, who cannot obtain citizenship either from Israel or from the country from which they fled.
Still, they so proudly cherished the land of Israel that they were welcomed to. They continue to strive to become a part of the Israeli community. And belonging to the Kuchinate was one way for them to take pride in their identity. And we connected with them. Their yearning for peace and stability is one that is shared with all of humanity… Israel is not an outlier on this issue. We see strikingly similar issues surrounding immigrant and refugee status in the United States. What this story has shown me that our voices can be used make a difference in the dialogue that takes place across the globe and in our own communities. It shows me that our concerns and our outrage matters. It shows me that speaking up change people's lives. And most importantly, it shows me that we must continue to be active in the world to fight for the rights of communities who have been left out of the dialogue for far too long. This is what our voices can do."
Student Terreea Shropshire was inspired after hearing one of the refugees speak.
Despite all of these obstacles these women still have faith. The Kuchinate program is a socio-psychological program which aims to empower these women many of whom are survivors of terrible situations. The act of crocheting with a group of supportive women who have similar life experiences while making the Kuchinate, which is deeply rooted in African culture, aids the women in coping with the harsh realities that they face. At the end of the program, one refugee explained to us the importance of our visit, the importance of us telling their story and how the Kuchinate allows the women to earn money by selling their products and hosting events. It is here that as an African American Women I truly understood the importance of the Kuchinate slogan/phrase "we were all once refugees."'
Cross posted at Indisputably.org.