Let's welcome our Guest Bloggers for the month of June.
Our Student Blogger of the Month is Nicholas Wanic.
Nick is from Crystal Lake, Illinois, a town which has recently become somewhat infamous in the legal community. Nick received his bachelors from Illinois State in Business Administration, but knew he wanted to go to law school long before he graduated high school. While here at Marquette Law, Nick has worked for the Honorable Joan Kessler of the Wisconsin Court of Appeals and has worked with the Milwaukee City Attorney's Office prosecuting ordinance violations and working on civil litigation including the recently resolved and much publicized Bird Scooters case. He was a finalist in the Jenkins Competition this past April and looks forward to representing Marquette at the Chicago Bar Association Competition this Fall.
He is currently working toward his litigation certificate and hopes to work in litigation and appellate practice after graduation. In his free time Nick enjoys painting, cooking, and golfing.
Our Alumni Blogger this month is April K. Toy.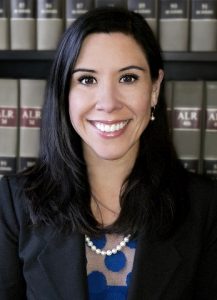 April is an attorney in Meissner Tierney's commercial litigation practice group. April represents businesses, insurance companies and individuals in a wide range of civil matters including liability and insurance coverage. She also defends businesses against professional liability claims and advises insurers on extra-contractual claims handling issues, including bad faith and duty to defend issues.  April graduated from Marquette University Law School in 2010.
April is a member of the Hispanic National Bar Association and Hispanic Professionals of Greater Milwaukee.  In addition, she volunteers at the Milwaukee Justice Center.