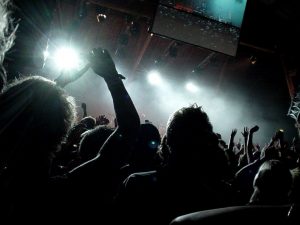 "Oh a music festival? That sounds fun. But what do you DO every day?"
"It's only 11 days. What do you do during the rest of the year? Vacation!?"
"I bet you get to meet all the famous people, right?"
The daily life of a music festival attorney is likely similar to your own. There are big projects, small projects, legal research, and the expected minutiae of the practice of law. I have written briefs and legal research memos with the customary headings and content, appeared in administrative court, push a not-insignificant amount of paperwork, and manage a team. The difference between practicing law to benefit a client and practicing law to benefit thousands of screaming concertgoers is complicated; my job is governed by the courts of this land and the court of public opinion, with one delivering a much swifter, and less researched, judgment in the modern age. The stakes are huge; my company is responsible for the safety of each and every guest on the festival grounds, as well as the thousands of employees operating the festival at any given time. Within this pursuit for a perfect show, I have contributed to multi-million dollar capital stage construction projects and, just a few hours prior, stood in front of a group of Milwaukee's underserved job-seekers, recruiting hopeful employees at the Department of Workforce Development. I have researched the nuances of the Americans with Disabilities Act to better serve all festival patrons, while simultaneously approving marketing images of a (very cute) cartoon feline for our mobile marketing team. I have opined on topics from acceptable marketplace vendors to high-level sponsorships to recycling bins to golf-cart safety. I have filed and renewed trademarks, while fielding phone calls regarding worker's compensation claims.  To put it simply, what I do every day is advance the world's largest music festival.
Let me preface by stating, unequivocally, that I love my job. The music industry is fast-paced, exciting, demanding, and ever-changing. Of course, my role touches upon legal issues and opinions, but does so in a practical, applicable way. I wear many different hats and never have the same day twice, which, for me personally, is the only way to practice law.
My days begin much like everyone else's; as a morning person, I am up with the sun, either heading to HIIT class or the coffee shop to clear my inbox and inhale a very large mug of sweet, sweet bean juice. I hold normal office hours in the festival's off-season, which spans from about August to February (since our "busy season" begins in the spring, our concept of a calendar year is slightly skewed). During this time, I like to take advantage of the normalcy of daily life by dedicating my time and expertise to the executive boards of several local non-profits. I often have charity events, mentorship or networking meetings, or other extracurricular commitments before or after work. I do travel, but not more than anyone else and certainly not in the summer. Basically, with the exception of a weekend festival on the grounds or an occasional long day at the office, my schedule in the fall and winter is pretty chill, albeit full.
And as the sun begins to peek through the Midwest haze that is winter, welcoming spring and the promise of a new year, all hell breaks loose.
Beginning in February and early March, the Legal department begins to renew cyclical contracts with vendors, sponsors, and media. While some of these contracts are routine (security firms, radio rentals, long-standing partnerships, etc.), any change to these business terms requires a fresh review. Indeed, some yearly sponsorships undergo an extensive review prior to signing, based on the feedback from my business counterparts in our internal departments. Employee handbooks, departmental best practices, and HR-related materials are always reviewed on an annual basis, across all departments and for all employees. It is the responsibility of the Legal department to ensure that the latest nuances of employment law are reflected in these documents, most recently including restrictions on social media use and prohibitions on harassment. These projects alone will span over several long weeks.
This is also the time in which I dust off the plethora of hats I will be required to wear during the festival season. As the Legal liaison to Human Resources, I am responsible for recruitment of our seasonal staff of 2,000+ employees. From late March through early June, I attend recruitment events, coordinate outreach with local employment entities, and generally ensure that our recruitment message is consistent — and compliant — throughout all channels. As the supervisor for our Front Office staff, I ensure that we have an educated team ready and able to answer any and all patron questions. I coordinate with our Marketing teams to provide legal guidance on internal and external initiatives, including social media promotions, marketplace vendors, revisions of press statements, and sponsorship approvals. I ensure our famous logo is used properly through IP oversight and execution of trademark use agreements, as well as cease and desist letters to infringing third parties attempting to create a connection between our event and theirs. For our Security team, I ensure that all training and loss prevention protocols are updated and consistent throughout the park and will begin to answer situation-specific questions regarding contingency plans, in consultation with our General Counsel. This is obviously not an exhaustive list of responsibilities, but should give an idea as to the sheer amount of legal work associated with an event of this size.
For those wondering when the artists for the festival are booked, the entertainment contracts are, for the most part, in place by springtime; those agreements, handled by our General Counsel, are planned well in advance, around considerations of artist tours and production needs. And, no, I don't meet the artists and I rarely even try. Engaging in such behavior  would neither inspire confidence in an entertainment law attorney's ability to prioritize my company's (i.e. my only client's) needs nor does it speak to professionalism. Further, entertainment law attorneys appreciate that artists backstage are actually preparing to go to work; he or she has a job to do and the entertainment law attorney should not be in the business of disturbing that preparation.
Before we know it, it is the week before the run. Much like the anticipation that builds around the winter holidays, the office will be abuzz with touchbases, last minute meetings, phones ringing off the hook, and palpable stress. If we have all done our jobs, the largest music festival in the world will go off with very few hiccups. The doors will open at noon on day one and thousands of people will enjoy hundreds of artists on a dozen stages over two weeks. Of course, nothing is entirely predictable (especially the weather, as a rain-or-shine venue) and it is the responsibility of the Legal department to anticipate needs and reactions. We will spend eleven days on high alert, reacting to mishaps of various sizes, while keeping the company-wide big picture in the forefront of every decision. It is a time of immediate, yet carefully weighed, decision-making and no issue is too small to be addressed. From the first flip of the turnstile to the final encore, the Legal department's role in the festival is integral in ensuring that the show will go on.