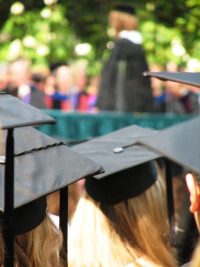 Ah, yes, the Baby Lawyer™. The finished product of the intense demands of law school, crisp diploma freshly in hand, joining the fray of the courtroom or the boardroom, ready and oh-so-willing to tackle each and every problem he or she is about to face. So full of life and hope, chock full of caselaw, best practices, tidbits from internships, faculty blessings and encouragement, and an undying love for the Oxford comma. We are blindingly sure that all of our preparation will be enough as we strut into the hallowed halls of the legal profession, away from the strictly regimented last three years . . . and its safety net of office hours and a curved grading scale.
I can say with some certainty that the baby lawyer experience is relatively similar throughout the generations. Some new attorneys begin in the proverbial "mail room," getting coffee, delivering senior attorney mail, and living in a three by three foot cubicle that they have determined to make their own with pictures of friends and motivational quotes from Target. Baby Lawyer is our name, legal research is our game, and we have embraced "other duties as assigned" as our personal motto.
Some First Year Associates (i.e. the Baby Lawyer With A Title) may have a trial by fire. They will be handed a brown accordion folder, a case of their very own.
"Thank you, I'll take care of this right away." Continue reading "A Love Letter to Baby Lawyers"