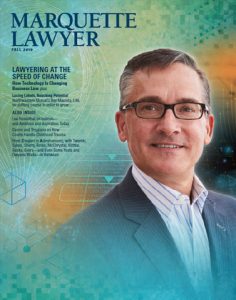 Navigating your path as a lawyer—the new Marquette Lawyer magazine offers approaches to how you might do that.
The cover story, "Practicing Business Law at the Speed of Change," includes insights from more than 15 lawyers whose work—together with that of their clients—is being shaped every day by advances in technology. Leaders of major firms, experts in the field, and lawyers at various stages in their careers describe how developments from the daily technology everyone uses (such as e-mail) to the most high-tech of today's changes (blockchain, for example) are affecting legal practice. Click here to read the story.
Paired with the cover story is a profile of Ray Manista, L'90, whose titles at Milwaukee-based Northwestern Mutual include executive vice president – chief legal officer. Manista describes how "changing labels" has been a key to his successful career. He was a litigator at a large Milwaukee firm but "changed labels" to become a member of the legal team at Northwestern Mutual. Several years later, he changed labels again to become involved in corporate leadership. "To be truly effective, I had to lose the labels," Manista says. To read his story, click here.
Lee H. Rosenthal, chief judge of the U.S. District Court for the Southern District of Texas, chose a thought-provoking subject about career paths when she delivered the E. Harold Hallows Lecture at Marquette Law School this past spring. "Ambition and Aspiration: Living Greatly in the Law" offers an essay version of her lecture on what priorities should guide members of the profession. Rosenthal's remarks are accompanied in the magazine by responses from eight lawyers, judges, and professors: namely, Diane S. Sykes, Darren Bush, Suzanna Sherry, Chad M. Oldfather, Nancy Joseph, Anna Fodor, Anne Berleman Kearney, and Peter K. Rofes. To read the full story, click here.

Also in this issue of the Marquette Lawyer:
"Four Models of What It Means to Be a Marquette Lawyer" salutes recipients of the 2019 Law School alumni awards. They are Wisconsin Supreme Court Justice Annette Ziegler, L'89, who was the Alumna of the Year; Professor Aaron D. Twerski, L'65, who was recognized for his lifetime achievement; Lisette Khalil, L'07, who received the Howard B. Eisenberg Service Award; and Aaron Hernandez, L'13, who was the Charles W, Mentkowski Sports Law Alumnus of the Year. To read remarks by Dean Joseph D. Kearney about each of the recipients and the recipient's remarks, click here.
Traumatic events in childhood shape the lives of many of the people who become defendants in criminal proceedings. How should trauma histories affect the way judges and everyone else in the legal system deal with people? This was the difficult and timely question that was the focus for Professor Deborah W. Denno during a visit to Marquette Law School in November 2018. Denno is the Arthur A. McGivney Professor and Founding Director of the Neuroscience and Law Center at Fordham University School of Law. During her visit, she delivered the Barrock Lecture on Criminal Law and appeared with Milwaukee County Circuit Court Judge Mary E. Triggiano at an "On the Issues with Mike Gousha" program. An article describes what Denno and Triggiano said. It is accompanied by an excerpt from Denno's lecture and a summary of Marquette initiatives and programs related to childhood trauma and its impact. To read the pieces, click here.
The "From the Podium" section of Marquette Lawyer includes remarks from Wisconsin Gov. Tony Evers at the Law School's Hooding Ceremony in May 2019; remarks from Dean. Joseph D. Kearney upon receiving the American Inns of Court Professionalism Award for the Seventh Circuit; remarks from Dean Kearney about Professor Michael McChrystal, who has assumed emeritus status; and the eulogy delivered by Ramon A. Kiltzke II for his father, Ramon Klitzke, who was a longtime faculty member of Marquette Law School.
The Class Notes section of the magazine includes stories about Katherine Maloney Perhach, L'00, who recently became a bankruptcy judge for the U.S. District Court for the Eastern District of Wisconsin, and about the memorable way Tamara Johnson, L'17, thanked basketball superstar Dwyane Wade for providing her a scholarship to attend Marquette University. It also includes news about more than 30 Marquette lawyers. To read the Class Notes pages, click here.
For 43 years, Shirley S. Abrahamson was a member of the Wisconsin Supreme Court, including long service as chief justice. She became nationally recognized for her legal opinions, her advocacy for the role of state courts, and her prominence as a role model for women lawyers. A ceremony in the state capitol in Madison honoring Abrahamson as she ended her court career this past summer included remarks from two Marquette lawyers who were colleagues of Abrahamson. Janine P. Geske, L'75, served on the Wisconsin Supreme Court from 1993 to 1998 and was a distinguished professor at Marquette Law School from 1998 until her retirement in 2014. Diane S. Sykes, L'84, was on the state Supreme Court for five years before being appointed to the U.S. Court of Appeals for the Seventh Circuit in 2004. To read the remarks about Abrahamson made by each of them, click here.
The magazine's message from Dean Kearney, "The Company We Keep," praises the Law School's friends, particularly Ray Eckstein, L'49, who passed away recently. The generosity of Eckstein and his wife, Kay, who died in 2017, was instrumental in the construction of the Law School's home, which is, of course, named Eckstein Hall. To read the dean's column, click here.