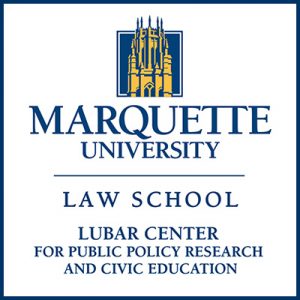 This blog post continues the focus of the Law School's Lubar Center on redistricting.
Hurtling toward a Nov. 23 deadline to redraw their district lines, Wisconsin's largest city and county left no room for error.
The Milwaukee County Board voted Nov. 22 to finalize a new supervisory district map, while the Milwaukee Common Council will vote Nov. 23 on new aldermanic districts.
By contrast, the Dane County Board crossed the finish line with a few days to spare, adopting a final supervisory map for the evening of Nov. 18. And Madison's Common Council completed its work on both aldermanic districts and voting wards on Nov. 2, well ahead of deadline.
The contrasting timetables reflect the contrasting results of the Badger State's first experiments with using independent advisory panels to help draw local district lines. Those panels succeeded in Dane County and the Racine Unified School District, but their work ended in rejection and recriminations in Milwaukee and Brown counties.
Controversy is nothing new to the redistricting process, of course, and past controversies helped shape the advisory bodies. Veteran political observer Mordecai Lee suggests that the independent panels' differing fates dramatize the differences between Milwaukee County cynicism and Dane County idealism.
Milwaukee County supervisors certainly looked cynical in 2011. Facing calls to significantly reduce the size of their 19-member board, they chose to eliminate just one seat — the one held by their conservative colleague, Joe Rice, who had championed a deeper reduction.
A Circuit Court judge also found the board's redistricting process violated the state's Open Meetings Law, while municipal leaders and the NAACP assailed the process for lacking transparency and public input.
That backlash led to a 2016 ordinance to create an independent commission of six retired judges to draw the lines in future redistricting cycles. But state law doesn't let elected officials completely hand off their mapmaking responsibilities. County boards still must approve supervisory district maps.
And that was where the process broke down in this year's round of redistricting. In a year when delayed census data already had compressed the timeline, the county's Independent Redistricting Commission fell more than a week behind its own schedule for producing a tentative supervisory map by Sept. 15. The following month, the County Board rejected three consecutive maps  from the commission, ostensibly for failing to comply with the federal Voting Rights Act, but also for failing to protect incumbents.
With those three strikes, the commission was out of the game, and supervisors directed the Southeastern Wisconsin Regional Planning Commission staff to draw a map that met their concerns. On Oct. 29, the board approved a tentative map  that features nine majority-minority districts and nine majority-white districts, while also avoiding contests between incumbent supervisors.
"Political self-preservation appears to be the board's overriding priority," Rice and state Rep. Joe Sanfelippo (R-New Berlin), another conservative former Milwaukee County supervisor, wrote in an opinion piece in the Milwaukee Journal Sentinel.
That drew a rebuttal from the redistricting commission's chair, former Milwaukee County Circuit Judge Jean DiMotto, and its vice chair, former Milwaukee Municipal Judge James Gramling. They noted that the final map was based on one that their commission had recommended and that met all of the ordinance's purposes, including transparency in creation, concluding, "The process of independent redistricting did indeed work."
Lee, a professor emeritus at the University of Wisconsin-Milwaukee, disagrees. "It was so discouraging and so depressing," Lee says of the outcome. "The basis of the independent redistricting (process) is that it doesn't have to survive self-interested incumbents … It showed how powerful the gerrymandering tendency is."
On balance, "I thought it was a noble experiment," Milwaukee Ald. Ashanti Hamilton says of the county process. However, he adds, "It's very difficult to try to experiment," particularly in a year when the timeframe is compressed, and, as a result, "it's kind of difficult to judge it, because these weren't the ideal circumstances."
Those less-than-ideal circumstances also complicate the job facing municipal officials like Hamilton, who is leading his city's redistricting process as chair of the Common Council's Judiciary & Legislation Committee.
Under state law, municipalities must wait for counties to approve a tentative supervisory map, then use that map to draw lines for voting wards. Those wards become the building blocks for aldermanic districts and final supervisory districts.
But in a normal redistricting year, state law provides 60 days to create ward maps and then another 60 days for final supervisory and aldermanic districts, for 120 days total. The board's Oct. 29 vote left the county's 19 municipalities with just 25 days to complete both processes.
With assistance from regional planners, the Glendale Common Council approved new ward and aldermanic maps on Nov. 8, followed by Fox Point Village Board approval of a new ward map on Nov. 9. Milwaukee and the other 16 suburbs adopted ward maps during the week of Nov. 15, ending with Brown Deer Village Board action Nov. 19, to keep the County Board on track to finalize its map Nov. 22.
Meanwhile, Milwaukee unveiled its proposed aldermanic districts Nov. 18, then held a virtual town hall meeting for public comments on Nov. 19. Hamilton's committee considered the map on Nov. 22 and unanimously recommended a final version to the full council for floor action Nov. 23.
"It's definitely not the time schedule we would have chosen," Hamilton says. "We can't miss a single day if we're going to meet this deadline."
Given this "unbelievably short timeline," Hamilton says, "I know better than to feel too confident, but we're trying to be very meticulous" in listening to public input and following the standards of the Voting Rights Act.
The proposed map would make relatively few changes to the current council lines, which have allowed Milwaukee voters to elect seven Black and two Hispanic members to the 15-member council, with significant Hispanic influence in other South Side districts.
Not all suburban cities will finish their aldermanic maps before Thanksgiving. The West Allis, Wauwatosa, and South Milwaukee councils all approved their district maps on Nov. 16, but the process will carry over into December in Cudahy, Franklin, Greenfield, Oak Creek, and St. Francis.
That means spring 2022 council candidates in Cudahy, Franklin, Oak Creek, and St. Francis won't know the lines of the districts they want to represent by Dec. 1, when they can start circulating nominating papers, although the boundaries will be available before the Jan. 4 filing deadline. Greenfield, like Milwaukee, has no council elections scheduled for next spring.
Much like Milwaukee County, supervisors in Brown County rejected an advisory committee's maps because they didn't protect incumbents, then voted Sept. 22 to approve a tentative map that did so. That has led to some dissatisfaction with the process. The Brown County Board approved a final map on Oct. 27.
By contrast, Dane County supervisors voted Oct. 14 to approve a tentative map recommended by their county's advisory commission, with the board majority beating back attempts to amend the commission's map.
"It highlights the oddity of Dane County politics," says Lee, a former Democratic state legislator.  Representing a strongly progressive constituency energized to fight gerrymandering on the state level, Dane County supervisors "needed to do the right thing or there would be consequences" from a voter backlash in the next election, Lee says.
Here's where the process stands in the rest of Wisconsin's four largest cities and counties, and in the two school districts that elect board members from subsidiary districts:
Waukesha County supervisors approved a tentative map Sept. 14 and a final map Nov. 9.
Green Bay Common Council members approved a ward map Oct. 19 and an aldermanic map Nov. 2.
Kenosha Common Council members approved a ward map Oct. 18 and an aldermanic map Nov. 15.
Racine Unified School District board members accepted an advisory committee's recommended map on Nov. 1. By state law, that was the deadline for them to act in order for new maps to be in place for the spring elections.
Milwaukee Public Schools are governed by a different state law that requires their board to act 60 days after the Common Council adopts an aldermanic map. School board members are discussing a process that would lead to approval of a map in January or February. No board elections are scheduled for spring.