This blog post continues the focus of the Law School's Lubar Center on redistricting.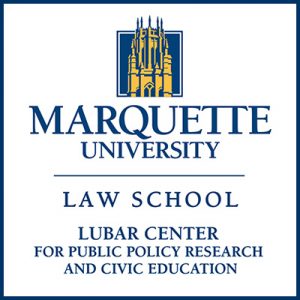 Nearly half of Wisconsin Assembly members and more than one-third of state senators — including the top Republican leaders in both chambers — would have to run against fellow incumbents if they seek re-election from the districts where they now live, under new maps proposed by an advisory commission.
The People's Maps Commission plan also would place four of the state's eight U.S. House members in the same districts as their colleagues, according to an analysis by John D. Johnson, research fellow in the Lubar Center for Public Policy Research and Civic Education at Marquette Law School.
By contrast, maps proposed by the Legislature's GOP leadership and by the conservative organization Common Sense Wisconsin would group far fewer incumbents together, Johnson's analysis shows.
That doesn't mean all of those incumbent-vs.-incumbent races actually would happen if any of those maps were adopted. Some lawmakers could retire or move.
For those seeking re-election, state law does not require legislative candidates to live in their districts at the time of the election, but they have to move into the district if they win. And U.S. House members legally don't have to live in their districts at all at all, as long as they are residents of the state they represent. But in either case, candidates who live outside their districts are open to attacks from opponents seeking to turn their residency into a campaign issue.
The Wisconsin Senate approved the Republican-drawn maps on November 8 on a party-line 21-12 vote, followed by passage November 11 in the Assembly by a 60-38 vote, also along party lines. Those maps now head to Democratic Governor Tony Evers, who has promised to veto them, setting up a likely court battle.
Senators rejected the advisory commission's maps 22-11, and Assembly members shot them down by an even wider margin of 77-21. Sen. Lena Taylor (D-Milwaukee) and 17 Assembly Democrats joined Republicans on those votes, and Taylor also sided with Senate Republicans on an identical vote against an alternative offered by her fellow Senate Democrats. Although Democrats did not split entirely along racial lines, their deep division reflected concerns over whether any of the plans met the requirements of the federal Voting Rights Act.
The differences between maps highlight the differences in mapmakers' priorities. The Republican-led Legislature adopted a joint resolution that said districts should "promote continuity of representation by avoiding incumbent pairing" as much as possible. By contrast, the officially nonpartisan advisory commission, appointed by Evers, said its maps would show "no preference for plans that resemble the current enacted maps or those that favor any incumbent."
Common Sense Wisconsin Executive Director Joe Handrick, meanwhile, says he based his map on one drawn by a federal court in 2002 and "didn't take into consideration where legislators live or partisan outcomes." However, Handrick's Republican background and his role in crafting the 2011 maps — denounced by Democrats as an extreme gerrymander that locked in substantial GOP majorities for a decade — leads some to question his motives.
The incumbent-protection issue is closely related to other questions raised in debates over the resolution and the commission's priorities and in arguments advanced in court briefs: whether to retain the core of current districts, how much to change districts, and whether to promote partisan fairness.
But all those factors lead back to the political question of how the maps affect each party's chances in elections. Republicans currently control the Assembly, 61-38, and the Senate, 21-12, while holding five of the state's eight U.S. House seats.
Johnson found that the Republican leaders' maps would be "substantially worse (for Democrats) than even the existing plan." In an election where the statewide vote for president or governor is evenly split, Democrats likely would win 36 of the 99 Assembly seats, down from 37 under the current map. To win a 50-seat majority, they would need their standard-bearer to carry the state by 12.4 percentage points, up from 8.6 points now.
Similarly, the Milwaukee Journal Sentinel calculated that 62 Assembly districts would be more Republican than the state as a whole in the GOP plan. And according to Wisconsin Public Radio,  the Princeton Gerrymander Project projected Republicans would typically win 59 Assembly seats under the GOP maps.
Wisconsin's political geography, with Democrats concentrated in larger cities and Republicans spread more widely across rural and suburban areas, would naturally favor the GOP, but not by as much as either the current map or the Republican leaders' map, Johnson says.
By contrast, Johnson found, in a statewide tie, Democrats likely would win 44 Assembly seats under the commission map or 38 seats under Handrick's map. They could win an Assembly majority if their presidential or gubernatorial candidate carried the state by 3.6 points under the commission map, but would need a 7.5-point margin under the Common Sense Wisconsin map. (More later on the connection between votes for Assembly and for the top of the ticket.)
The Senate Democrats' maps surfaced too late to be included in Johnson's analysis. Here's how he found the other three plans compare for the Assembly and Senate:
People's Maps Commission: Under this plan, at least 45 of 99 Assembly members would wind up in the same districts as fellow incumbents. That would include Speaker Robin Vos (R-Rochester) and Rep. Samantha Kerkman (R-Salem) being paired together. Similarly, 13 of 33 senators would be in districts with other incumbents, including a pairing between Senate Majority Leader Devin LeMahieu (R-Oostburg) and Sen. Dan Feyen (R-Fond du Lac).
Neither Assembly Majority Leader Jim Steineke (R-Kaukauna), Assembly Minority Leader Gordon Hintz (D-Oshkosh), nor Senate Minority Leader Janet Bewley (D-Mason) would be grouped with fellow incumbents.
Overall, the advisory commission's Assembly map would place at least 27 Republicans in the same districts as fellow Republicans, while 12 Democrats would be paired with fellow Democrats, and at least 23 districts would have no incumbents.
Three districts would feature potential Democrat-vs.-Republican matchups: between Reps. Janel Brandtjen (R-Menomonee Falls) and Sara Rodriguez, a Brookfield Democrat who Monday declared her candidacy for lieutenant governor, in a safely red district; between Reps. Amy Loudenbeck (R-Clinton) and Mark Spreitzer (D-Beloit) in a Democratic-leaning district; and between Reps. Dave Considine (D-Baraboo) and Tony Kurtz (R-Wonewoc) in a Republican-leaning district. At least one district would be home to three Republicans: Reps. Terry Katsma of Oostburg, Timothy Ramthun of Campbellsport, and Tyler Vorpagel of Plymouth.
In the Assembly, the commission map would create 42 safely Republican seats and five GOP-leaning seats, with 30 safely Democratic seats and eight Democratic-leaning seats. It also would create 14 competitive seats, eight of them narrowly red and six of them narrowly blue.
The commission's Senate map would group seven Republicans with fellow Republicans, pair four Democrats with fellow Democrats, and create one potential cross-party matchup — between Sens. Kathy Bernier (R-Chippewa Falls) and Jeff Smith (D-Brunswick) in a competitive but narrowly red district — while seven Senate districts would have no incumbents. One district would have three Republicans: Sens. Robert Cowles of Green Bay, Andre Jacque of DePere, and Eric Wimberger of Green Bay.
In the Senate, the commission map would create 14 safely Republican seats and three GOP-leaning seats, with eight safely Democratic seats and one Democratic-leaning seat. Of the seven competitive seats it would create, six would be narrowly blue and one narrowly red.
Republican leaders: This plan would place at least six Republican representatives in the same districts as fellow Republicans, leaving at least three Assembly districts without incumbents. No Democratic representatives and no senators of either party would share districts under the GOP plan.
The GOP's Assembly map would guarantee the party's majority with 53 safely red seats and five Republican-leaning seats, while Democrats would get 32 safe seats and two blue-leaning seats. It also would create seven competitive seats, five narrowly red and two narrowly blue.
Similarly, the Republicans' Senate map would build in a majority of 17 safely red seats and four GOP-leaning seats, leaving Democrats with nine safe seats and one blue-leaning seat. Both of the two competitive seats would be narrowly Republican.
The Campaign Legal Center sharply criticized the GOP's attempts to shore up its incumbents in Milwaukee's suburbs, where Democrats have made inroads in Assembly and presidential elections, WPR reported. Johnson's analysis shows districts would shift from competitive but narrowly Democratic to leaning Republican for Sen. Dale Kooyenga (R-Brookfield) and from leaning GOP to safely red for Sen. Alberta Darling (R-River Hills).
Common Sense Wisconsin: Under Handrick's maps, at least 20 representatives and four senators would share districts with fellow incumbents, leaving at least 10 Assembly districts and two Senate districts with no incumbents.
In the Assembly, this plan would group at least 12 Republicans in the same districts as fellow Republicans, pair eight Democrats with fellow Democrats and set up one possible cross-party matchup — between Rep. Jon Plumer (R-Lodi) and Considine — in a Republican-leaning district.
Common Sense Wisconsin's Senate map would pair two Republicans — Cowles and Jacque — while Sens. Van Wanggaard (R-Racine) and Robert Wirch (D-Somers) would be together in a safely blue district.
Handrick's Assembly map would give Republicans 46 safe seats and six GOP-leaning seats, while Democrats would get 29 safe seats and seven Democratic-leaning seats. It also would create 11 competitive seats, eight narrowly red and three narrowly blue.
In the Senate, Handrick's map would create 15 safely Republican and three GOP-leaning seats, with nine safely Democratic and one Democratic-leaning seat. All five of the competitive seats would be narrowly Republican.
Johnson's analysis used the most recent home address available for each incumbent, whether from their official profile on the Legislature's website or their most recent campaign filing.
(All those "at least" numbers reflect the difficulty of determining the current address of Rep. Scott Allen (R-Waukesha). The address that Allen reported to the Wisconsin Election Commission in 2020 would make him the only lawmaker who would wind up in a three-incumbent district under all three plans, but the zip code that he now lists on the Legislature's website probably would place him in a single-incumbent district under all three plans. Allen's office did not respond to an inquiry from Johnson.)
According to Johnson's analysis, the commission's congressional map would place U.S. Rep. Scott Fitzgerald, a Juneau Republican, in the safely blue 2nd District now represented by Democratic Rep. Mark Pocan of Black Earth, while Republican Rep. Glenn Grothman of Glenbeulah would wind up in the safely red 8th District represented by fellow Republican Rep. Mike Gallagher of Allouez. No incumbents would be left in Fitzgerald's current 5th District or Grothman's current 6th District, both still safely red territory, Johnson found.
Overall, the commission's map would create four safely Republican districts (5th, 6th, 7th, and 8th) and two safely Democratic districts (2nd and 4th) — the same as the current map — along with two competitive but narrowly Democratic districts (1st and 3rd), compared with the current map's one strongly GOP-leaning district (1st) and one competitive but narrowly Republican district (3rd), Johnson found.
Under the Republican leaders' plan, no U.S. House incumbents would share a district, and the partisan lean of the districts wouldn't change substantially, Johnson found. Common Sense Wisconsin didn't offer a congressional map.
To calculate the partisan lean of each legislative and congressional district, Johnson averaged vote margins from the 2016 presidential, 2018 gubernatorial and 2020 presidential races. The vote for the top of the ticket doesn't correlate precisely to the vote for legislative candidates, because individual candidates and campaigns can affect voter preferences. For example, as Republican U.S. Sen. Ron Johnson has noted, former President Donald Trump would have carried Wisconsin in 2020 had he won as many votes as GOP Assembly candidates did.
However, with the decline of ticket-splitting as partisan divisions grow more stark, the Law School's Johnson has found an increasingly narrow deviation between votes for president, governor, U.S. senator, and state representative. That correlation makes gerrymandering easier, because partisan mapmakers can readily identify red and blue areas, Johnson says.
In this analysis, districts where the parties are separated by five percentage points or less are characterized as competitive but narrowly favoring one party; those where a party has a margin of between 5 and 10 points are characterized as leaning toward that party; and those where a party has a margin of more than 10 points are considered safe for that party.
As redistricting action moves from the Legislature to the courts, all these maps and more could remain in play. Evers and the GOP legislative leadership have been admitted as intervenors in both federal and state litigation, and Bewley has been admitted as an intervenor in the state case, which could give all of them opportunities to submit their preferred maps for courts to consider.
Handrick's map isn't officially on the table yet. But in a recent "On the Issues with Mike Gousha" program at Marquette Law School, he said, "If a court . . .  hopes to improve on the old map . . . we have shown that path forward."
Doug Poland, litigation director of the progressive legal organization Law Forward, says he sees Handrick's map as a ploy to depict a Republican-friendly plan as a compromise. Poland, who is representing three voting-rights organizations in the state and federal cases, noted that Handrick's starting point, the 2002 court-drawn map, had an unintentional tilt of about 8 percentage points in the GOP's favor.
"We all know Joe Handrick is a Republican operative," Poland says. "He's not trying to devise a neutral map."