This blog post continues the focus of the Law School's Lubar Center on redistricting.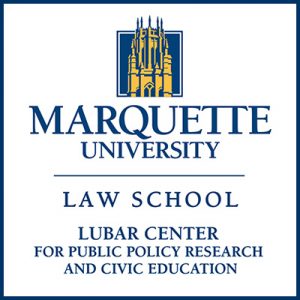 More than two colors matter in redrawing district maps.
In Wisconsin, public and media attention has focused largely on how much red and blue show up in each proposed legislative or congressional map, reflecting the partisan balance of power between Republicans and Democrats.
But redistricting is also a portrait in black, brown, and white, with district lines under scrutiny for how they affect the rights of Black and Hispanic voters to choose their preferred representatives. And as state and local redistricting debates show, federal court decisions have left a lot of gray areas in interpreting those legal rights.
Democratic state lawmakers splintered over whether legislative maps proposed by the advisory People's Maps Commission (created by the governor) and by their own Senate caucus would comply with the guarantees of the federal Voting Rights Act (VRA).
Milwaukee County supervisors repeatedly invoked the same act as one of their reasons for rejecting all three County Board district maps proposed by their own advisory commission. Before he left office, then-Milwaukee Mayor Tom Barrett  vetoed a new Common Council district map over concerns that it wouldn't provide enough representation for the city's growing Hispanic community.
And with both the Wisconsin and U.S. Supreme Courts ruling out challenges to gerrymandering based on political or partisan interest, attorneys and scholars say the landmark civil rights legislation and related constitutional provisions might provide the only path to federal judicial review of legislative maps soon to be drawn by the state high court.
The Voting Rights Act has influenced redistricting for more than three decades—even though it never directly mentions the mapmaking process. Some believe it requires lawmakers to draw districts with supermajorities of Black or Hispanic voters—but a string of court decisions says otherwise. And even though the Milwaukee County Board and Common Council debates revolved around proportional representation, the act specifically says it's not meant to guarantee that.
Let's take a look at what the law really says, and what it means for redistricting in Wisconsin.
Enacted in 1965, the VRA is designed to enforce the 15th Amendment's guarantee that "the right of citizens of the United States to vote shall not be denied or abridged by the United States or by any state on account of race, color, or previous condition of servitude."
At President Lyndon B. Johnson's urging, Congress passed the VRA to overrule state and local laws—mainly in the South—that had circumvented the Constitution by restricting Black voting rights for nearly a century. Subsequent VRA amendments extended the law's protection to Hispanic voters.
The act prohibits state and local governments from adopting any law or procedure "which results in a denial or abridgement of the right of any citizen of the United States to vote on account of race or color" or because the citizen "is a member of a language minority group." The U.S. Supreme Court laid out how that protection includes redistricting in its unanimous 1986 Thornburg v. Gingles decision.
Marquette University Law School Professor Atiba Ellis explains that Gingles established a three-part test for determining whether a district map could improperly dilute minority voting rights: (1) Whether a minority group is large enough for its preferred candidate to win an election; (2) whether the group is politically cohesive enough to unite behind its preferred candidate; and (3) whether the racial majority votes as a bloc or otherwise tries to thwart the minority's candidate.
The minority population must not only be large enough to elect a candidate, but also compact enough to fit into a reasonably drawn district, adds David Canon, professor of political science at the University of Wisconsin-Madison.
In practice, that means that, for redistricting purposes, "the VRA only applies to groups who are residentially segregated," observes John D. Johnson, research fellow in the Lubar Center for Public Policy Research and Civic Education at Marquette Law School.
As a result, Milwaukee's notorious racial segregation "makes redistricting a little easy," says Ald. Ashanti Hamilton, who leads the Common Council's redistricting efforts as chair of its Judiciary and Legislation Committee. "You don't have to do tricky things with districts" to keep minority populations together, because most of their members already live near each other, Hamilton says.
Even if the Gingles test is satisfied, however, crafting a remedy can be complicated. Judges must first analyze whether the "totality of circumstances" has the effect of illegally diluting minority voting rights, Ellis says. In the redistricting case currently before the Wisconsin Supreme Court, Canon contributed to that analysis as an expert witness for three voting rights groups.
The act was amended in 1982 to focus on discriminatory impact after the Supreme Court's 1980 City of Mobile v. Bolden decision held that the act's original language required plaintiffs to prove discriminatory intent. However, the issue of intent could come up again in cases challenging redistricting plans in Texas and North Carolina, where Republican lawmakers are arguing that their maps are "race-blind," because they didn't look at racial data while drawing them.
This is where racial gerrymandering and political gerrymandering collide. Even though the state and federal high courts have said they won't consider a map's impact on partisan control, the analysis required by Gingles involves looking at election results, Canon says. And Black voters strongly support Democratic candidates, Canon and Ellis say.
In the Wisconsin case, several of the parties that submitted maps for the state justices to consider also submitted expert witness reports that analyze how Milwaukee's majority-Black neighborhoods voted in elections where Black and white candidates faced off. Among the elections cited by various experts were the 2018 Democratic primaries for governor, lieutenant governor, and Milwaukee County sheriff, as well as the 2020 nonpartisan general elections for Milwaukee mayor and Milwaukee County executive. Canon didn't write that part of the report for the voting rights organizations.
The candidate preferred by minority voters doesn't necessarily have to be a member of their own minority group, says Mel Barnes, staff counsel for the progressive legal organization Law Forward, which is representing the voting rights groups.
In fact, Milwaukee's majority-Black 18th Assembly District has been represented since 2012 by a white lawmaker, Rep. Evan Goyke, who defeated a Black challenger by a 3-to-1 margin in the 2016 Democratic primary, notes the report from Rice University political science professor John Alford, an expert witness for GOP legislative leaders.
Conversely, Black and Hispanic lawmakers elected from majority-white districts don't factor into the VRA analysis, Barnes says.
Majority-minority districts in Milwaukee account for five of the seven Black Assembly members, two of the four Hispanic Assembly members, and two of the three Black senators currently serving in the Legislature.
The creation of majority-minority districts is itself a source of dispute about the VRA. In the wake of Gingles, President Bill Clinton's Justice Department recommended drawing such districts to ensure minority representation, Ellis says.
North Carolina lawmakers claimed they were relying on that advice when they drew "a snakelike thing" of a majority-Black congressional district that stretched for 160 miles, stringing together three urban areas along Interstate 85, Ellis says. A group of white voters filed a reverse-discrimination lawsuit, accusing the state and federal governments of racial gerrymandering in violation of the Equal Protection Clause of the 14th Amendment.
A sharply divided U.S. Supreme Court found for the plaintiffs in its 1993 Shaw v. Reno decision. The justices held that any redistricting based on race must be subject to strict scrutiny, to ensure it is narrowly tailored to further a compelling government interest. Canon says a line of related cases ended with the high court's 2001 Easley v. Cromartie ruling—upholding a revised map for that same North Carolina district—which found that race could play a limited role in redistricting.
The upshot is that "race can't be used in excess, regardless of whether you're trying to benefit the [minority] group or burden it," Ellis says.
But in these decisions, the Supreme Court avoided specifying whether districts should be drawn with any particular percentage of minority voters, say Ellis, Canon, and Barnes.
"It's important to know that there is not a magic number," Barnes says. "There's no one-size-fits-all percentage."
Lawmakers must be careful to avoid diminishing a minority group's influence by either "packing" its voters into too few districts or "cracking" them into too many, Ellis says.
Canon says that this leads to debate over whether a community's circumstances require supermajority districts, which are essentially safe seats for members of a given minority group; "opportunity districts," which are more competitive but give that group a roughly even shot at winning; or "influence districts," where the minority group can't win on its own but can play a decisive role in choosing the winner.
One such debate played out in Baldus v. Wisconsin Government Accountability Board, the Democratic challenge to the Republican-controlled Legislature's 2011 legislative and congressional maps. The GOP prevailed on most of the issues in that case, except for Hispanic representation.
Lawmakers had drawn two Assembly districts with significant Hispanic voting-age populations on Milwaukee's south side, recalls Rick Esenberg, president of the Wisconsin Institute for Law and Liberty. He represented a group of Hispanic businessmen supporting the GOP map.
But a three-judge federal panel ruled that the community should have a district with a majority of Hispanic voting-age citizens, because of the number of undocumented immigrants who could not vote, Esenberg says. When the Legislature didn't alter its maps accordingly, the court directed the plaintiffs' expert witness—Kenneth Mayer, a UW-Madison political science professor—to redraw for it the boundary between the 8th and 9th Assembly Districts.
Many of the same players are back in the current case before the state court. Esenberg is the lead lawyer for the plaintiffs who brought that case; the lawyer for the challengers in Baldus, Doug Poland, is now Law Forward's litigation director; and Mayer, like Canon, is an expert witness for the voting groups represented by Law Forward.
Those same two Assembly districts are back in the mix, too, despite hopes that a third Hispanic district might have been carved out. Geography frustrates that aspiration, Johnson says, even though the Milwaukee metropolitan area's Hispanic population grew by 24% in the past decade.
"It's large enough that, if all Latinos were neighbors, their giant neighborhood could [be divided into] three Assembly districts," Johnson says. "But as their population grew, it also became less segregated. The population of Latinos in majority-Latino census blocks only grew 4%."
Mayer's analysis says the voting rights group's map would give District 8, now represented by Democratic Rep. Sylvia Ortiz-Velez, a 52% Hispanic citizen voting-age population. But he's apparently the only one using that measure.
Other parties' experts and attorneys say their clients' maps would produce Hispanic voting-age populations ranging from 58% to 67% in District 8, compared with 67% now, and from 53% to 58%—compared with 56% now—for District 9, currently represented by Democratic Rep. Marisabel Cabrera. The People's Maps Commission's plan also would have drawn two Hispanic-majority districts, Johnson says.
On Milwaukee's north side, several of the parties are grappling with whether and how they could increase Black representation beyond the current six majority-Black Assembly districts, particularly in light of the state Supreme Court's order to minimize changes from the current map.
The map of the People's Maps Commission—now off the table because of that least-change order—would have cut the number of majority-Black districts to two, while also drawing five districts with Black populations of between 45% and 49%, according to Johnson's analysis. That proposal brought objections from Sen. Lena Taylor (D-Milwaukee) and 17 Assembly Democrats, who joined majority Republicans to defeat the commission plan in the Legislature.
Exact numbers differ somewhat, depending on whether the parties are using census figures for people who listed their race as Black only or as Black and some other race, notes University of Colorado-Boulder math professor Jeanne Clelland, an expert witness for Gov. Tony Evers.
For example, if people who report themselves as either Black or Black in combination with another race are counted, the Democratic governor's plan draws seven majority-Black Assembly districts and two majority-Black Senate districts, all with voting-age populations between 50% and 51% Black, Clelland's analysis says. But if the count is limited to Black-only residents, the voting-age population would be between 48% and 50% Black in those same seven districts, Clelland writes.
Similarly, the voting rights groups say they drew seven districts with Black voting-age majorities between 50% and 52%, but Johnson's analysis shows all seven would be under 50% for Black-only voters. GOP legislative leaders say their plan would keep Black voting-age majorities in the six Assembly districts that now have them — the districts represented by Goyke and Black Democratic Reps. David Bowen, Dora Drake, Kalan Haywood II, LaKeshia Myers, and Supreme Moore Omokunde — although Johnson found only four of those districts would be above 50% in Black-only voters.
Progressive voters represented by Democratic attorney Marc Elias drew two districts with Black voting-age majorities between 50% and 56% and five districts with Black voting-age populations between 43% and 49%. And a group of UW-Madison and Marquette professors drew three districts with Black voting-age majorities between 56% and 83%, plus four districts with Black voting-age populations ranging from 35% to 40%.
The governor's and voting rights groups' plans would add more Black voters to Wauwatosa Rep. Robyn Vining's 14th District; Elias' plan would add to Whitefish Bay Rep. Deb Andraca's 23rd District; and the professors' plan would add to Milwaukee Rep. Daniel Riemer's 7th District, all now held by white Democrats.
Only the GOP map would clearly retain the status quo in the Senate, where Black voters would hold onto their majorities in Districts 4, represented by Taylor, and 6, represented by Sen. LaTonya Johnson. Black-only voters would drop below 50% in one of those districts under the plans from Elias and the professors, and in both districts under the plans from Evers and the voting rights groups, according to John Johnson.
Under all the plans, Hispanic voters would constitute more than 41% of Senate District 3, where the voting-age population is now 47% Hispanic and represented by a white Democrat, Sen. Tim Carpenter.
While all of the parties say their maps comply with the VRA, the widely varying interpretations of the law leave room for disagreement with whatever map justices choose, or with a map they draw themselves.
Barnes says it's possible a challenge could take the form of amending a federal lawsuit brought by the voting groups and Elias' clients, still alive before a three-judge panel after the U.S. Supreme Court rejected a GOP request to kill it.  Esenberg contends that any appeal of the state Supreme Court's decision must go straight to the federal high court.
Meanwhile, County Executive David Crowley has signed a County Board map with nine majority-white districts, six majority-Black districts, two majority-Hispanic districts, and one district where all non-white voters together form a majority.
At City Hall, the map that Barrett vetoed would have kept six majority-Black districts and two majority-Hispanic districts, plus one district where the voting-age population is 43% Black and two with Hispanic voting-age populations between 25% and 28%.
Hispanic groups argued that their 20% share of the city's population should translate into three districts on the 15-member council. But the VRA says, "Nothing in this section establishes a right to have members of a protected class elected in numbers equal to their proportion in the population."
Ellis says that some redistricting issues go beyond legal requirements and "get to the heart of trying to create a truly representative multiracial democracy."
Revised council maps would push the Hispanic voting-age population to between 33% and 37% in the far south side's District 13, while lowering it to between 18% and 22% in Bay View's District 14.
Hamilton's committee is to consider the new maps Jan. 10, followed by council floor action on Jan. 12.