This past fall, the Milwaukee Association for Women Lawyers (AWL) Foundation honored three Marquette University Law School students with scholarships.
Sebrina Dixon, 3L, received the AWL Foundation scholarship. The AWL Foundation Scholarship is awarded to a woman who has exhibited service to others, diversity, compelling financial need, academic achievement, unique life experiences (such as overcoming obstacles to attend or continue law school), and advancement of women in the profession.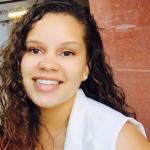 Dixon is an Iowa native and a graduate of Iowa State University. Although she double majored in psychology and criminal justice, she found tax law in law school and settled into her niche. She is the co-founder and co-president of the new Tax Law Association. Dixon is a member of the student chapter of AWL and the Black Law Student Association (BLSA) and is a staff editor of the Marquette Benefits and Social Welfare Law Journal.
Samantha Jozwiak, 2L, received the Shirley S. Abrahamson Scholarship. Recipients of the Shirley S. Abrahamson Scholarship must have "demonstrated perseverance in the face of adversity" and show commitment to issues affecting women or children in the community and to public service. The late Shirley S. Abrahamson served on the Wisconsin Supreme Court for 43 years. She was the state's first female supreme court justice and, later, its first female chief justice.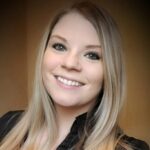 Jozwiak was born and raised in southwestern Wisconsin, where she initially thought she would never go to college, much less law school. After high school, she tried several career paths before deciding to go to the University of Wisconsin – Platteville—while still working full-time. She thrived in college and graduated magna cum laude. Jozwiak began pro bono work as an undergrad and continues that work in law school. Jozwiak is also passionate about legal research, writing, and advocacy. She was selected this spring to be a Jenkins Moot Court Competition competitor.
Jennifer Knackert, 3L, was awarded the Virginia A. Pomeroy scholarship. This scholarship honors the late Virginia A. Pomeroy, a former deputy state public defender and a past president of AWL. In addition to meeting the same criteria as for the AWL Foundation scholarship, the winner of this scholarship must also exhibit what the AWL Foundation calls "a special emphasis, through experience, employment, class work or clinical programs" in one of several particular areas: appellate practice, civil rights law, public interest law, public policy, public service, or service to the vulnerable or disadvantaged.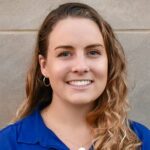 After her graduation from University of Wisconsin – Madison, Knackert served as an AmeriCorps member in Washington, DC, for one year. Following that year, she worked in Milwaukee as the first Equity and Inclusion Intern for the Milwaukee Public Schools. She moved from that role to manager of a grant program in the University of Wisconsin – Milwaukee School of Education, focusing on culturally responsive education practices. While there, she decided to attend law school. She is now the editor-in-chief of the Marquette Law Review and an ASP leader. She's also a member of the Organization for Student Wellbeing.
Congratulations to these three women for outstanding service and for their representation of Marquette University Law School.