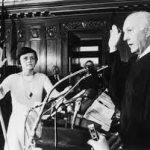 On Saturday, December 19, former Wisconsin Chief Justice Shirley S. Abrahamson, died after battling pancreatic cancer. She was 87. Just two ways she was like another famous, short, tough, trailblazing Jewish jurist: Ruth Bader Ginsburg.
Abrahamson, the daughter of Polish Jewish immigrants who arrived in the United States in the early 1930s, grew up in New York City. She graduated magna cum laude from NYU with her bachelor's degree in 1953. Three years later, she graduated first in her class from Indiana Law School; she was also the only woman.
She met her husband Seymour in Indiana; they moved to Madison in the early 1960s, where Abrahamson earned her S.J.D. from UW Law in 1962. Thereafter, she became the first female lawyer at the Madison law firm La Follette, Sinykin, Doyle & Anderson. She was named a partner within a year. All throughout the time she was in practice, she also taught at UW Law.
In 1976, then-Governor Patrick Lucey appointed her to the Wisconsin Supreme Court' she was the first woman to serve there. She was elected to the court in 1979 and re-elected three more times after that: in 1989, 1999, and 2009. On August 1, 1996, she became the court's first female chief justice, a role she held until April 30, 2015, when, pursuant to a newly approved state constitutional amendment, members of the court chose Patience D. Roggensack as chief justice.
When Abrahamson finished her last 10-year term in July 2019, she earned the distinction of being the longest serving justice in Wisconsin history, having served a total of 43 years on the court.
Marquette University Law School, UW Law School, and the State Bar of Wisconsin saluted Abrahamson in a ceremony at the Capitol on June 18, 2019. At the close of that ceremony, Justice Ginsburg noted, in a videotaped address, that "[a]mong jurists I have encountered in the United States and abroad, Shirley Abrahamson is the very best."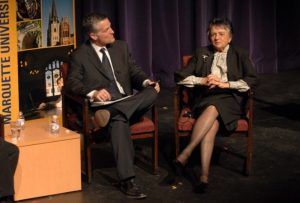 Professor Janine Geske (L'75) served on the court with Abrahamson for five years. Geske, the second woman on the Wisconsin Supreme Court, was appointed in 1993. Geske said the two became friends as the only two women on the high bench. Geske noted, more than once, that Abrahamson was "the brightest and most hard-working person I knew."
Geske added that Abrahamson had "an incredible imagination as to how to make the justice system better and more responsive to all involved." In an email to members today, the League of Women Voters of Wisconsin lauded Abrahamson, saying she "aimed to make the court as transparent and accessible as possible for Wisconsinites."
Her impact went well beyond the state. When the news of her death was posted to a listserv of women law faculty, responses flowed in. Professor Heidi G. Robertson (Cleveland-Marshall College of Law) wrote, "I worked in her chambers during my third year of law school and it changed my life. I would not have become a professor without her guidance and encouragement. I will always be grateful for her wisdom and her kindness."
Professor Judith Greenberg (New England Law School) wrote: "I was a student of hers at UW and then a colleague at Louise Trubek's Center for Public Representation in Madison. She was so creative and so generous in giving her time to [a] new start-up. And what a terrific role model she has been for generations of us. We will all miss her lively attention to the law and to individuals."
And Professor Kimberlé Williams Crenshaw (Columbia Law School and pioneering scholar on intersectionality) wrote: "Among many mentors, she's the one that took a huge chance on me and that's what paved my way into law teaching. I never knew what hard work really was until I clerked for Justice A[brahamson]."
Abrahamson's son Daniel told the Wisconsin State Journal that his mother slept only three to four hours a night because "that's all she needed." Geske said that it was "not unusual" for Abrahamson to work 18 to 20 hours a day. I saw this work ethic for myself.
When I clerked for then-Justice Roggensack during the 2003-2004 term, I could see Abrahamson's parking spot from the chambers' window. Her car—with its personalized license plate declaring Wisconsin a GREAT STATE—was nearly always there when I arrived in the morning and there when I left at night. My own little game was to see if I could stay later than she did. I was rarely successful.
That work ethic may be one of the things that I remember most about Abrahamson. That and walking into the copy room late in the evening and nearly literally bumping into her as she made her own copies. And, always, her droll humor—delivered with a lingering New York accent—when she presided over the swearing in of new graduates.
I remember, too, hearing a tale about a clerk in her chambers who once wrote a bench memo for her. It was said that Abrahamson told the clerk, "There are just two things wrong with this memo: the facts and the law." I don't know if that tale is true, but, then again, as Governor Tony Evers observed in the Wisconsin State Journal, Abrahamson was a "meticulous jurist and a profound writer."
Though not an alumna of Marquette University Law School, Abrahamson was, to be sure, a very devoted friend. She was a frequent speaker (for example, at the annual Hallows Lecture in November 2003; with Justice Sandra Day O'Connor in May 2008; and at Eckstein Hall's dedication in September 2010, among other events). But she was an even more-frequent and most welcome guest at countless lectures and events.
There are many ways in which her memory will live on—e.g., the Wisconsin Historical Society Library Reading Room is named after her—but my small way will be to always ask my moot court students a variation on a question she'd often ask during oral arguments: "How would you like us [this court] to write this opinion?"