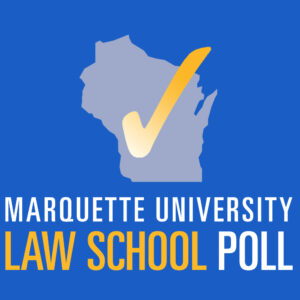 We communicate about the Marquette Law School Poll in any number of ways, including posts on this blog, Tweets from the official MULawPoll Twitter account and that of poll director Charles Franklin, and occasional articles in the Marquette Lawyer magazine (from 2012 to this past year). Marquette's Office of University Relations (OUR) also issues releases. While these are ordinarily drawn from the poll's homepage, OUR has issued its own announcement, noting the tenth anniversary of the poll. In light of the poll's prominence and success, we post below for interested readers the University's press release, which is also available here.
---
Marquette University Law Poll marking 10 years of polling in 2022
MILWAUKEE — The Marquette University Law School Poll is celebrating 10 years of polling, having released its first survey of Wisconsin voters on Jan. 25, 2012. Over the ensuing decade, the Marquette Law Poll has become recognized across the spectrum as "the gold standard in Wisconsin politics."
The Marquette Law School Poll was established to be the most extensive polling project in Wisconsin history, with a full commitment to being an independent effort with no agenda except to reliably find out as much as is possible about public opinion in Wisconsin and to make that information publicly available. The poll is entirely funded by aggregated small donations to the Law School's Annual Fund.
"The goal of the Marquette Law School Poll is to provide a balanced and detailed understanding of how voters on all sides view and respond to the issues of the 2012 campaigns," wrote Joseph D. Kearney, dean of Marquette Law School, in announcing the polling project in November 2011. "With the national attention that Wisconsin will receive in 2012 and Marquette Law School's growing reputation as a premier neutral site for debate and civil discourse on matters affecting the region and points beyond … there can be little doubt that the time, place, and people are right for the Marquette Law School Poll."
The premise of Wisconsin's important role in national politics was correct, and the decision to create the Marquette Law School Poll was even prescient, as the state has been a central battleground on the national level in each presidential election since. This has made the Marquette Law Poll a key instrument in measuring public opinion in the state come Election Day and a resource of national attention.
Since January 2012, the Marquette Law School Poll has recorded:
Responses from over 60,000 Wisconsin voters
Polling involving over 1,200 unique questions
Favorability of 112 political figures, including 70 measures of favorability for Sen. Tammy Baldwin, 56 measures for Sen. Ron Johnson, and 50 for former Gov. Scott Walker. Favorability and approval were also recorded for President Joe Biden and Presidents Barack Obama and Donald Trump in each poll during their respective time in office.
The Marquette Law Poll is nearing 400 unique issue questions on marijuana legalization, gun control, public schools, COVID-19, deer hunting, farm ownership, climate change, healthcare, and a host of other policy topics.
Continue reading "A Decade (Plus) for the Marquette Law School Poll"