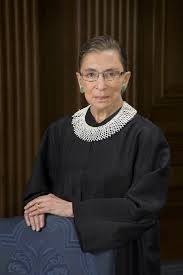 She stood, at best, five feet, one inch tall. But as she got older, she looked shorter—age and frailty bending her small frame forward.
Even so, she was larger than life.
Now, if had he known her, Shakespeare surely would have penned these words for her: "Though she be but little, she is fierce."
Most of you already know who "she" is. "She" is Justice Ruth Bader Ginsburg, and tonight, she died at the age of 87. She was a three-time cancer survivor. But a survivor, she was.
Cornell University had admitted her as an undergraduate, and she started classes mere months after her mother died. She ended up the highest-ranking female student in her class. And, during her first year of law school at Harvard as one of only nine women in a class of 500 men, she, the mother of a toddler, did her own studying and typed up notes for her husband Marty, a second-year law student who was undergoing treatment for testicular cancer. She juggled parenting a small child, pursuing her own rigorous studies, and managing her husband's studies. When Marty graduated from Harvard Law and moved to New York for work, she followed, transferring to Columbia Law School. And ended up tying for first in her graduating class.
Considering her class rank and her achievements at two renowned law schools, you'd think she'd have no trouble finding a job. But you'd be wrong. As I've heard her say, she had three strikes against her: she was Jewish, she was a woman, and she was a mother. Fortunately, then, because no law firm would hire her, she eventually ended up working for the ACLU as a founding member of the ACLU's Women's Rights Project. There, she was the architect of the litigation strategy that chipped away at laws that discriminated on the basis of sex. In her view, neither women nor men should be constitutionally bound by societal roles made legal based on what "women" or "men" should be.
Only she never was able to convince the Court that sex discrimination cases should receive strict scrutiny, like other suspect classifications.
Nonetheless, her tireless work as an advocate of women's rights—and equal rights—was apparent even after she was confirmed as an associate justice in 1993. (The Senate confirmed her by a 96-3 vote.)
Nominated by President Bill Clinton, she was the second woman to sit on the nation's highest court. She joined Justice Sandra Day O'Connor, who had been nominated by President Ronald Reagan in 1981.
Even as a justice, she was a voice for women. One of her earliest cases on the Supreme Court was United States v. Virginia, where the Court held that, at bottom, that the Virginia Military Institute (VMI) must be admit women. In that case, she wrote, that "VMI's mission[ ] to produce 'citizen-soldiers,' individuals 'imbued with love of learning, confident in the functions and attitudes of leadership, possessing a high sense of public service, advocates of the American democracy and free enterprise system, and ready . . . to defend their country in time of national peril'" was a "goal . . . great enough to accommodate women, who . . . count as citizens in our American democracy equal in stature to men." [internal citations and quotations omitted.]
Later, she became one of the Court's great dissenters. One of her more famous dissents was in Shelby County v. Holder. The majority struck down Section 4(b) of the Voting Rights Act of 1965, which had determined which states were required to submit any changes in voting procedures to the US Department of Justice—a procedure termed "preclearance"—so that the DOJ could be sure that those changes would not discriminate against minority voters. In her dissent, she wrote, "Throwing out preclearance when it has worked and is continuing to work to stop discriminatory changes is like throwing away your umbrella in a rainstorm because you are not getting wet."
Like Justice Ginsburg, I began law school as the mother of small children: my sons were 1 and 3 that fall. Although I didn't have a husband who was also a law student and sick with cancer, I was nonetheless challenged to balance motherhood and legal studies. And while so much of what Justice Ginsburg did in her early years helped pave the way for my eventual admittance into law school as more of the norm than the exception, it would be foolish of me to say that discrimination based on sex had been wholly eradicated. We know that it was not. That it is not.
Still. That does not mean her work was for naught. She paved the way.
Unfortunately, though, her work is not yet done. But we can keep it moving forward and, maybe soon, maybe someday, finish it. A good first step?
Commit to the passage of an Equal Rights Amendment, for starters. Make real the Constitution's commitment to equality by expressly providing for it.
Kamala Harris, Democratic nominee for vice president, tweeted earlier this summer, after it was announced that Justice Ginsburg was undergoing chemotherapy for a recurrence of cancer, "Justice Ruth Bader Ginsburg has been a fighter her whole life and I know this next challenge is no different." But it was always wishful thinking to expect she could keep on keeping on.
Saying goodbye is never easy. But it is, often, required. And while I never personally knew Justice Ginsburg, I—like so many others who heard her speak, who followed her work, who benefitted from her advocacy, who admired her strength of will—just wanted to say, Thank you. You will be missed.