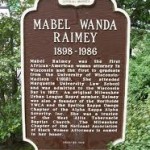 Recently a friend lent me a wonderful book, More than Petticoats: Remarkable Wisconsin Women, by Greta Anderson.* The book biographies a number of notable Wisconsin women, but the biography that stood out the most to me was of Mabel Watson Raimey.
Mabel Watson Raimey was the first African-American woman to attend Marquette University Law School. (117) She worked during the day and went to law school at night. (117) She was the first African American female lawyer in Wisconsin, entering the profession in 1927. (118)
Ms. Raimey went to law school a few years after she was fired from her job teaching elementary school in Milwaukee: she was let go on the third day of school after school officials learned of her race. (114-15) Ms. Raimey had been a distinguished student before entering the teaching profession. (116) She graduated from West Division High School at fourteen and obtained an English degree at the University of Wisconsin. (116-17)
Before entering law school, Ms. Raimey volunteered for the Milwaukee Urban League and ultimately became a member of the board. (117-18) She founded the Alpha Kappa Alpha sorority in Milwaukee, and she helped to start a YWCA branch in Milwaukee for African Americans (now called the Vel Phillips Center). (118)
Ms. Raimey practiced law in Milwaukee. (118) Three African-American lawyers practiced in Milwaukee in the 1930s through the 1940s. (118) Ms. Raimey served both African-American and white clients. (118) She represented individuals "'regardless of their race, color, creed, or economic ability . . . in a fair and just manner.'" (118)
The book recounts that when Ms. Raimey accepted an award later in life, she said
[i]f my acceptance and completion of law school at Marquette University in the 1920s has inspired or encouraged anyone to enter the field of law, I am pleased. If any accomplishment that I may have made has had any influence on any young people, I am pleased more. (121)
Ms. Raimey has been recognized by other Marquette faculty. Professor Phoebe Weaver Williams recounted Ms. Raimey's life in A Black Woman's Voice: The Story of Mabel Raimey, "Shero", 74 Marq. L. Rev. 345 (1991).** A historical marker to Ms. Raimey also stands outside Sensenbrenner Hall on Wisconsin Avenue.
I admire Ms. Raimey for her desire to learn, her ability to push forward in the face of injustice and bigotry, her sense of fairness in representing her clients regardless of race, and her community activism.
Readers: what other Marquette women lawyers have made a difference in the legal profession and the broader community? Whom do you admire?
*Greta Anderson, More Than Petticoats: Remarkable Wisconsin Women, 113-21 (2004).
**In her book, Greta Anderson gratefully acknowledged Professor Williams' assistance in writing the chapter on Ms. Raimey.