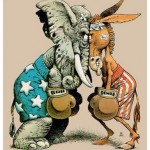 The New York Times published an article detailing the results of a new study regarding the career paths of former United States Supreme Court clerks.  The study finds that "former clerks have started to take jobs that reflect the ideologies of the justices for whom they worked."  The data collected show a shift in the career paths of clerks hired from 1990 and on:
 Until about 1990, the study shows, there was no particular correlation between a justice's ideological leanings and what his or her clerks did with their lives.
 Clerks from conservative chambers are now less likely to teach. If they do, they are more likely to join the faculties of conservative and religious law schools. Republican administrations are now much more likely to hire clerks from conservative chambers, and Democratic administrations from liberal ones. Even law firm hiring splits along ideological lines.
It is no secret that the justices have shown a greater propensity to hire clerks that share their ideological beliefs (as the article and previous studies explain).  Yet this newest study, which focuses on life post-clerkship, has alarmed those already worried about the strong ideological splits on the Court.  Says law professor William Nelson of NYU, "It's cause for concern mainly because it's a further piece of evidence of the polarization of the court."