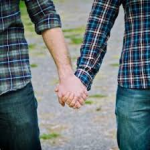 Judge Richard Posner minces no words. In an opinion dated September 4, Judge Posner wrote for a unanimous 7th Circuit panel, affirming the Wisconsin district court's decision invalidating Wisconsin's so-called marriage amendment. (I reviewed the district court decision here.) Wisconsin's case—Wolf v. Walker—was heard with its equivalent from Indiana—Baskin v. Bogan—and both states saw their prohibitions on same-sex marriage crumble.
The court confines its analysis to equal protection, avoiding the Fourteenth Amendment substantive due process argument (marriage as a fundamental right) that both sides pressed. As an equal protection analysis, the court sets up the legal question as one that requires heightened scrutiny because, as the court determined, sexual orientation is an immutable characteristic rather than a choice (and, Judge Posner added, "[w]isely, neither Indiana nor Wisconsin argues otherwise" (*9)).
Because heightened scrutiny applied, the state needed to provide an important state interest for treating same-sex couples differently when it came to marriage, and the discriminatory means chosen (denying same-sex couples the right to marry in Wisconsin and refusing to recognize same-sex marriages performed in states that sanction such unions) must be substantially related to achieving that important state interest. In true Posnerian style, Judge Posner discussed the equal protection analysis in terms of costs and benefits. (See **4-7.) That is, "in a same-sex marriage case the issue is not whether heterosexual marriage is a socially beneficial institution but whether the benefits to the state from discriminating against same-sex couples clearly outweigh the harms that this discrimination imposes" (*6).
The court found no important state interest to satisfy the heightened scrutiny analysis. As Judge Posner noted, "[T]he only rationale that the states put forth with any conviction—that same-sex couples and their children don't need marriage because same-sex couples can't produce children, intended or unintended—is so full of holes that it cannot be taken seriously" (*7). In fact, the court found none of the arguments proffered by either state as rational, much less serving important state interests. "The discrimination against same-sex couples is irrational, and therefore unconstitutional even if the discrimination is not subject to heightened scrutiny . . ." (*8). Because the court found an equal protection violation (whether it used heightened scrutiny or rational basis analysis), the court avoided the due process argument.