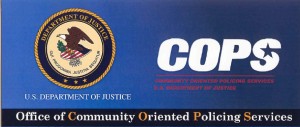 In recent decades, awareness of narrative and of stories in general has increased in many fields and academic disciplines, law included.  However, it is nevertheless surprising to see that even law enforcement specialists in the Justice Department have developed an appreciation of the workings and importance of narrative.
This heightened sensitivity surfaced in the recent Justice Department report on police conduct in Ferguson, Missouri following the shooting of Michael Brown.  Issued by the Department's "Community Oriented Policing Services" office, the report outlines no fewer than 113 lessons that police in Missouri and elsewhere might learn from developments during the seventeen days following Brown's death and funeral.
Much of the report is predictable.  It criticizes such police tactics as the use of dogs, tear gas, and so-called "overwatching."  With the latter, police use rifle sights to survey a crowd from positions on top of police vehicles.  Overall, the report warns that "militarization" of a volatile situation will probably make things worse.
Toward the end of the report, its authors turn to what they label "lost narrative."  In their opinion, Missouri law enforcement was too slow to provide information about the shooting of Brown and thereby created an opening for alternative representations of the incident.  Supporters of Brown and his family seized the opportunity and offered an alternative narrative, one conveyed largely but not completely through the social media and one stressing that "Black Lives Matter."