This is the first part of a three-part series on Women in Wisconsin Law.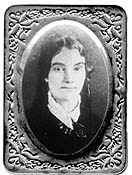 Throughout Wisconsin's history, women have played an instrumental role in the development of the state's legal system. Among these women was Lavinia Goodell of Janesville, the first woman admitted to practice law in Wisconsin.
Before her move to Wisconsin, Goodell worked as an editor for several newspapers in New York. During this time, Goodell confided in a coworker that her life's ambition was to become a lawyer. When Goodell's parents retired to Janesville, Wisconsin, in 1871, she was convinced into joining them with her father's promise that she would be able to study law. Upon arriving in Wisconsin, Goodell's father helped his daughter find attorneys who would permit her to study law alongside them through an apprenticeship. After demonstrating her ability to successfully practice law as an apprentice, Goodell sought admission before the local circuit court and, with the support of several prominent local lawyers, was admitted to practice in the Circuit Court of Rock County, Wisconsin, in 1874.
After being admitted to practice law at this local level, Goodell opened her own law office that primarily represented woman and the elderly. Despite being able to practice at this local level without much difficulty, one of Goodell's cases in 1875 was appealed to the Wisconsin Supreme Court. When the supreme court did not allow her to argue the case, Goodell filed an application for state admission.   Continue reading "Women in Wisconsin Law: Lavinia Goodell"