Posted by: Joseph D. Kearney
Category: Marquette Law School, Public
Leave a Comment »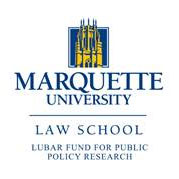 This is a notable week in the Law School's public policy initiative. First, it marks the beginning of Charles Franklin's work as professor of law and public policy—an appointment announced this past May by Rev. Scott R. Pilarz, S.J., president of the University. Professor Franklin, formerly professor of political science at the University of Wisconsin–Madison, will continue to direct the Marquette Law School Poll and, more broadly, will work with Mike Gousha, Alan Borsuk, and faculty at the Law School and beyond in the continuing development of the Law School's public policy research and outreach. Second, Craig Gilbert joins us in a sense. Mr. Gilbert, the head of the Milwaukee Journal Sentinel's Washington bureau and the author of The Wisconsin Voter blog at the newspaper, will hold a six-month fellowship established by the Law School through its Sheldon B. Lubar Fund for Public Policy Research. This is along the lines of work last academic year by the newspaper's Rick Romell, which resulted in an extensive multipart series in the newspaper reporting on the economic future of this region. Mr. Gilbert is especially well-regarded in both journalism and the academy (you can get a sense of that here). His project during his time as a Lubar Fellow will focus on aspects of political polarization in the region, an activity that (to bring me back to where I began) no doubt will occasion his collaboration with Charles Franklin and Mike Gousha, among others at Marquette. On behalf of all who comprise the Marquette Law School community, it is a privilege for me welcome to both Charles and Craig as they expand the contributions we make to the community even beyond our core mission of legal education.

You can follow any responses to this entry through the RSS 2.0 feed. You can skip to the end and leave a response. Pinging is currently not allowed.