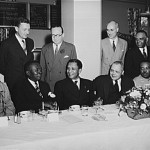 This semester I am teaching a seminar entitled Comparative Refugee and Asylum Law, and last week, one of my students in that course, Vintee Sawnhey, sent me a link to a news article about the thousands of Liberians who fear deportation from the United States because the "deferred enforced departure" status that President Bush extended to them in September 2007 is scheduled to end on March 31, 2009.  
I should probably preface the rest of this long post by explaining that the article Vintee sent me was especially interesting to me because I worked with many Liberians during and just after law school, at Minnesota Advocates for Human Rights, now called The Advocates for Human Rights.  Most of my work for that organization involved interviewing prospective asylum-seekers, to assess their credibility and the strength of their claims for asylum.  My work there happened from late 1996 through early 1999, and many of our clients were Liberians.  Minnesota has a relatively large population of Liberians.  (You may want to check out the Minnesota Star-Tribune's really nice website about Liberians in Minnesota.)
Anyway, as Vintee pointed out, the situation of these Liberians is "pretty relevant to some of our current readings" in my asylum law seminar. Indeed, the situation of the Liberians facing possible deportation later this year illustrates two of the most important ideas in the course:  (1) the legal definition of "refugee" does not include people fleeing from generalized civil war conditions, and (2) offering "temporary" humanitarian protection in place of permanent refugee status to such individuals is problematic, because countries experiencing civil war do not become stable very quickly, and human beings build new lives in the meantime.
To get asylum in the United States, you must prove that you meet the legal definition of a "refugee," that is, you are fleeing from persecution "on account of race, religion, nationality, membership in a particular social group, or political opinion."  That is why people fleeing from generalized conditions that threaten human life, such as civil war, fall outside of the legal definition of "refugee": the persecution they fear is not "on account of" one of the five protected grounds.
Thus, while many Liberians I worked with were "refugees" within this legal definition because they feared being targeted due to their political or family relationships, or their ethnic background, many others were not, because they could not establish that they would be targeted on account of one of the special "protected grounds."  It was difficult to explain to the latter group that they were not "refugees."  At the time, I was therefore very glad that the United States had determined to grant Liberians who arrived during certain designated periods a "temporary protected status," or TPS. At least there was some protection to offer most Liberians we interviewed.  
Now, though, ten, eleven years later, thinking of people who have been establishing lives here, now facing the prospect of being forced to return to Liberia, I wish that at that time I had worried more about the fact that for so many of them, their protected status was only "temporary," at least in name. 
How do we reconcile the fact that we welcomed Liberians here for five, ten, fifteen or more years, with the word "temporary" we attached to their official legal status?  Proponents of the deportations have claimed that allowing Liberians to stay "makes a mockery of the concept of short-term temporary humanitarian protection," but any such mockery happened years ago, as protection was extended, again and again, with the label "temporary" still attached.  That dry, legalistic phrase, "extending TPS," had the real life result of allowing human beings to build lives here.  Thousands of Liberians made their homes here in the United States for years and years in such a "temporary" status.  And thank God for that.  It allowed them to feel safe, to forget the horrors many of them had experienced, to build new lives.  Find jobs, buy houses, start businesses, have children. Become members of their communities.  Tearing those human beings from their lives here cannot change the fact that the lives we allowed them to build here were not "temporary."
To me, it seemed disingenuous from the start to label the protection we were granting Liberians "temporary." It should have been clear that such horrific civil strife as was taking place in Liberia from 1989 to 1996 would take years to stabilize. Indeed, while things are much improved there now, and while the Truth and Reconciliation Commission may provide a path to peace and stability, the country is hardly prospering, with an unemployment rate of a "staggering eighty-five percent," according to the UN's World Food Programme.  The Liberian government itself opposes the deportations, fearing a "destabilizing effect on the country's fledgling economic and social structures."  
I hope that many members of the Liberian diaspora are able to repatriate and help rebuild their homeland. Liberia needs them.  But not all of them can or should do so.  Having invited these human beings to weave themselves into the fabric of our communities, for years, even decades, we should not force them to leave now.  Not to mention the fact that many of them have raised children here, children who have no memory of Liberia, perhaps never even set foot in that country.
Beyond the fundamental inhumanity of tearing people from their communities here, the prospect of our country forcibly deporting Liberians is particularly repugnant, to me at least, given the United States' historical relationship with, and special responsibilities toward, Liberia.  As the Library of Congress general resources portal on Liberia states,
Liberia was settled by freed American slaves in 1821 and became an independent republic in 1847. Americo-Liberians, descendants of the freed slaves, dominated the country until 1980, when Sgt. Samuel Doe led a violent coup that led to the killing of President William Tolbert. By a fraudulent election, in 1985, Doe became Liberia's first indigenous president. 
That brief summary glosses over the many other ways in which United States policy and actions from before the founding of that nation and up until the present day have affected Liberia's political and economic development. Any reader of the history of the relationship between the United States and Liberia must acknowledge that the United States bears significant responsibility for the ethnic and political tensions that drove Liberia to war and created the forced migration crisis in that country.  In view of our historical relationship with Liberia, we were right to offer protection to all of fleeing the Liberians who sought safety here.  Having allowed them to make homes here for years, we should offer them a path to permanent residency.  
In December, a number of congressional representatives, including Milwaukee's Gwen Moore, wrote to Bush and Obama in December, seeking an extension of the Liberians' status here.  In January, a large number of NGOs (including The Advocates for Human Rights, the National Immigrant Justice Center, and the Catholic Legal Immigration Network, Inc.) renewed that request. The Advocates' website has more information about efforts to prevent the deportations, and even a postcard you could send to the President about the issue, were you so inclined.  I plan to do so myself.