This semester in Professor Lisa Mazzie's Advanced Legal Writing: Writing for Law Practice seminar, students are required to write one blog post on a law- or law school-related topic of their choice. Writing blog posts as a lawyer is a great way to practice writing skills, and to do so in a way that allows the writer a little more freedom to showcase his or her own voice, and—eventually for these students—a great way to maintain visibility as a legal professional. Here is one of those blog posts, this one written by 3L Andrea Jahimiak.
On February 22, 2017, six individuals who identify as either Black or Latino filed a class‑action lawsuit against the City of Milwaukee, the Milwaukee Fire and Police Commission ("FPC"), and Police Chief Edward Flynn. The plaintiffs allege that their constitutional rights were violated when they were unlawfully stopped, frisked, or both, by Milwaukee Police Department ("MPD") officers.
Together, the plaintiffs are seeking relief by way of the court: (1) declaring that the defendants' stop and frisk policies, practices, and customs are unconstitutional; and, (2) ordering immediate and permanent suspension of such policies, practices, and customs.
Allegation of a Named Plaintiff
One of the plaintiffs alleged that her teenage son has been unlawfully stopped by an MPD officer on at least three occasions. The first unlawful stop took place when he was ten years old.
Around noon in October 2010, D.A. walked to his friend's home. When D.A. arrived at his friend's home, he rang the doorbell, but no one answered. D.A. then used his cellphone to call his friend.
While on the phone, an MPD officer walked up to D.A., put his arms around D.A. shoulder's and walked D.A. to his squad car located in the nearby alley. The officer then forcibly removed D.A.'s phone from him, patted him down, and made D.A. put his hands on the hood of the squad car.
The father of D.A.'s friend, a white male, ran out of the home. The father immediately asked the officer what was going on and asked why he was searching a child. The officer replied that he was making sure nothing was wrong. The officer then left.
D.A.'s mother called the associated MPD district and spoke to the sergeant. D.A.'s mother demanded to know why a police officer stopped and frisked her ten-year-old son. The sergeant said that it was MPD policy to stop and frisk young men walking through alleys.
Expert Reports Confirming MPD
Almost a year after filing suit, the ACLU of Wisconsin released three expert reports regarding the MPD's stop and frisk policies, practices, and customs. The expert reports were conducted in relation to the ongoing class‑action lawsuit.
The expert reports concluded that the MPD has unconstitutional policies, practices, and customs. And that MPD officers routinely conduct unconstitutional stops and frisks procedures, motivated by race and ethnicity.
One report was written by Margo L. Frasier, J.D. Frasier's employment history includes serving as Sheriff of Travis County, Texas, for over seven years. Frasier acknowledged her bias and declared that she gave deference to the police officers. Deference was not a saving grace.
After reviewing the MPD's police-civilian encounter data from 2010–2017, Frasier found that "48 percent of traffic stop records and 59 percent of the pedestrian stop records fail to show that MPD officers conducting stops had . . . reasonable suspicion of criminal activity or a traffic or vehicle equipment violation."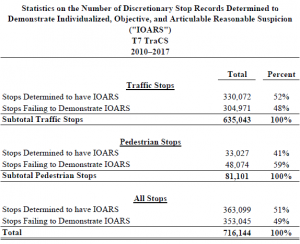 The second report, authored by Dr. David Abrams, revealed that Black and Latino people are more likely than white people to be subject to stops across Milwaukee.
Dr. Abrams' analysis of MPD's data concluded the following:
The traffic stop rate for Black drivers is more than 500% higher than white drivers.
The traffic stop rate is higher for Latino drivers than white drivers by more than 70%.
Black drivers are 50% more likely to be searched than whites during a traffic stop.
Police are 20% less likely to discover drugs on Black and Latino drivers than on white drivers during traffic stop searches.
Black people are 500% more likely to be targets of pedestrian stops than white people.
The third report, authored by Samuel Walker, Ph.D., reached the same result as the other reports but also found that the FPC was culpable.
Walker found that the FPC failed to oversee and supervise operations of the MPD—a statutorily prescribed duty. His determination was supported by the testimony of the leader of the FPC, Executive Director MaryNell Regan.
As an Executive Director, Regan was required to review and evaluate all aspects of MPD's operations, including policies, practices, and patterns. She also was to prescribe, create, and amend policies. However, by her own admissions, Regan failed to fulfill her official duties.
Regan confessed that she was not familiar with MPD's policies, practices, or patterns. She also admitted that she defers operational reviews and evaluations to MPD management. Hence, Regan relinquished her professional responsibilities to others.
Coincidentally, Regan submitted her resignation to Mayor Barrett on Sunday, April 22, 2018. The resignation may be an indication that the class-action lawsuit is forging change. But only time will tell. And the same goes for the outcome of the class-action lawsuit.