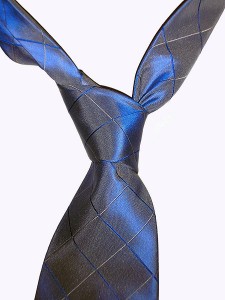 I recently jested that I would spend some blog time on fashion. Then, on Thursday, the fates decided to jest with me a tad. My hospital has a large summer program for local high school students. The students will basically be assigned a mentor and spend the summer learning from the mentor and going to job-related training sessions. Very internship-y.
Anywho, I got wrangled into providing the "Dress For Success" session. Stop laughing, Jake. It's in July so I have a while to figure out what I am going to say. However, one thing keeps coming to mind. One "rule" to provide to a future job seeking male. And a way to stymie a growing pet peeve.
Ties = Accent pieces. Dudes, they are not, NOT meant to blend into your shirt like some silken chameleon. ACCENT. 
We can have a long debate about patterned ties with patterned shirts (note: the general rule is to avoid "busy-ness", so it is permissible), but at the end of the day — you just shelled out $$ on a fancy rope that will be making you uncomfortable for the next 8-16 hours, let people see it. And if you notice a stealthy, possibly black-ops trained, tie on a colleague, perhaps choose NOT to see it. Ask that sharply dressed colleague, "what, no tie today?" and then act shocked — like you just saw the schooner in the Magic Eye picture, "OH, there it is!"
A slightly lesser known rule: pocket squares shouldn't match your tie (or cuff links).
Please feel free to comment below, and we can hopefully hash some of your questions/concerns/disagreements in a civilized manner.