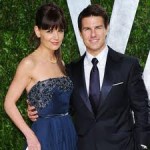 On June 28, actress Katie Holmes allegedly "blindsided" actor Tom Cruise, her husband of five-and-a-half years, by filing for divorce.  Cruise was filming a new movie in Iceland when Holmes filed her divorce papers in New York, where she and their daughter Suri had been living. 
What made this story even more dramatic was the incredibly calculated way in which Holmes is rumored to have plotted her departure and her filing.  Most media (gossip) reports claim that weeks (if not months) prior to June 28, Holmes set the wheels in motion, using pay-as-you-go cell phones to contact attorneys, cutting off ties with joint friends, firing staff that Cruise had hired, and renting a new apartment in New York City in her name only, allegedly telling Cruise that the new apartment had certain features that allowed for more privacy, even as she allegedly was professing her love for Cruise during phone calls with him.  (Stories can be found here, here, here, here, and here, undoubtedly among many other places.)
Why Holmes chose New York rather than California as the venue for her filing could be due to one, or both, of two possible reasons, as speculated by a number of legal sources, none of whom are connected with the Holmes-Cruise case.  First, filings in California are public, while filings in New York are sealed (and Holmes purportedly petitioned for an anonymous caption).  This would allow the couple privacy as they worked through the unraveling of their marriage. Second, it was widely speculated that custody of Holmes' and Cruise's daughter would be an issue.  Holmes requested sole legal custody, a move many thought occurred because Holmes (raised a Catholic) wanted to remove the influence of Scientology (Cruise's professed religion) from Suri's life, and a New York court is more likely than a California court to grant sole custody where parents cannot agree on child rearing issues.     
Holmes and Cruise settled their divorce in 11 days and though little has been officially released about the terms, most reports agree that Holmes with have primary custody of Suri in New York and Cruise will have liberal visitation rights.  Thereafter, Holmes and Cruise released a joint statement professing their commitment to work together as parents for their daughter's best interests.   
So, what's there left to talk about?
What I keep coming back to again and again was not that Holmes decided to end her marriage, but how she went about doing it.  I suppose you could say, as one attorney did (purportedly with some admiration) when analyzing her legal maneuvers, that she was "a little diabolical."  Perhaps.  But perhaps so in the best possible way.  Clearly Holmes had contacted lawyers in advance of her actual move out of Cruise's life:  filing for divorce in New York instead of California, requesting an anonymous caption, and requesting sole custody of Suri all were undoubtedly strategic and shrewd legal moves.  Holmes was obviously well counseled and could afford to, as we say colloquially, "lawyer up."  A key player for Holmes in her move to divorce Cruise and obtain primary custody of her daughter:  her father Martin Holmes, an Ohio attorney.
Now, obviously, I have no idea why Holmes herself proceeded as she did and I cannot say that Holmes herself felt one or way or the other about her marriage, but I will say that I thought she behaved as women do when they have decided to leave a person who cannot or will not accept "It's over," or by whom they feel controlled.  I believe this because I've personally seen it played out by women in both my professional and personal lives.  And in each instance, lawyers played a critical role.
Women in situations as I've described above seem to conclude that while they must leave their relationships, they are unable to do so directly.  That is, they do not feel they can directly discuss with their partners the demise of the relationship and then have the necessary conversations needed to unravel their intertwined lives.  Maybe they feel unsafe or they feel that whatever they say will be disregarded or belittled or they will be pressured into staying.  In any event, these women feel that if they proceed, they must proceed covertly, maintaining the appearance of a relationship while they figure out the details of leaving.     
Here is where counsel – in the form of lawyers, but also close family or friends – becomes critical.  A woman in this situation needs legal and emotional support.  Ideally, she will know as she plans her exit her legal rights and what she can and should expect because those rights will differ depending on whether she is ending a marriage, a domestic partnership, or a live-in relationship.  She will need to know how to begin changing email addresses and cell phone numbers, how to find a secure place for her things, and where she can stay after she leaves.  Her options will vary depending on her financial resources, so she may need to know about agencies or organizations that can assist her. 
She will need emotional support as well because planning to leave in this way takes time and energy, and along the way she will have doubts.  She may not think she is strong enough to pull it off or she may not think she will succeed or survive on her own.  But she is and she can.  And she needs to be reminded of that.      
I am not advocating that women clean out the joint bank accounts, take all the household valuables, and disappear without a trace, and I am not advocating that this is a preferred method of ending a relationship.  I am, however, acknowledging that in some cases, covertly and carefully planning an exit from the relationship is the method that needs to be used, and to that end we as counselors (whether as lawyers, friends, or family) can help.  Yes, the partner may feel "blindsided," but likely there were little signs along the way that the partner ignored or refused to see.  For some women, this is the only way they can move on with their lives.