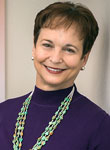 Marquette University Law School's legal writing professors are pleased to announce that Professor Linda Edwards, E.L. Cord Foundation Professor of Law at University of Nevada Las Vegas, will be joining us as a Boden Visiting Professor for the fall semester of 2014.
Professor Edwards is a leading scholar and leader in the field of legal writing.  She has authored five texts, three of them focused on legal writing, and has written numerous scholarly articles on legal writing, rhetoric, and law. Her recent book, Readings in Persuasion: Briefs that Changed the World (Aspen Law & Bus. 2012) will serve as the basis for the advanced legal writing seminar she will be teaching at MULS next fall. The book discusses why some briefs are more compelling than others and covers briefs written in some of the law's most foundational cases: Muller v. Oregon (the Brandeis Brief), Brown v. Board of Education, Miranda v. Arizona, Furman v. Georgia, Loving v. Virginia, and others. Professor Edwards says the course will build on what students learned in Legal Analysis, Writing & Research 2, but from a more advanced perspective.
Professor Edwards practiced law for 11 years before becoming the coordinator of NYU's Lawyering Program. She then spent 19 years at Mercer University School of Law, where she was the director of legal writing and taught legal reasoning and advanced legal writing, as well as property, employment discrimination, and professional responsibility. In 2009, she joined the faculty at UNLV.  Also in 2009, Professor Edwards was awarded the Association of Legal Writing Directors and Legal Writing Institute's Thomas Blackwell Award for her lifetime achievements and contributions to the legal writing field.
We are very excited to welcome Professor Edwards next fall.