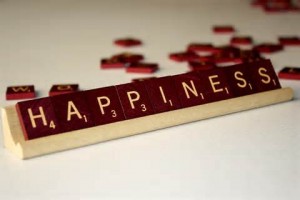 A July 2014 article in the Wisconsin Lawyer magazine describes a nationwide study about the happiness of lawyers.  This study shows factors that correlate with lawyer happiness, as well as those that don't correlate.  Those factors that correlate most strongly are what the article calls internal factors, and the factors that are least likely to correlate are external factors.  The internal factors relate to how well a person is able to communicate and interact with others, and the external factors relate to points largely outside one's immediate control.
The article highlights the following internal factors, which positively influence lawyer happiness:
•Autonomy, or being authentic and having a sense of control over one's choices (0.66)
•Relatedness to others (0.65)
•Feeling competent in performing one's job (0.63)
•Internal motivation at work (0.55) – that is, finding the work itself meaningful, enjoyable, and so on, rather than being motivated by external factors, such as pressure from others or needing to impress others
•Autonomy support at work (0.46)
•Intrinsic values (0.30) – these may include personal growth, helping others, and so on, in contrast to such extrinsic values as power, affluence, and others
The good news about these factors is that they are attainable workplace goals, and these factors apply to any workplace setting, not just law firms or other places where lawyers work.  In other words, these are factors that lawyers and the settings that employ them can foster, regardless of the type of legal work being done in that setting.  Moreover, many of the factors on the list are within an employee's grasp, and being in control is an important component in reducing stress.
External factors least influence lawyer happiness and include:
•Income (0.19)
•School debt (0.19)
•Class rank in law school (0.12)
•Law review membership (0.00)
I see this list as being positive for lawyers and perhaps in particular law students.  While law students should strive to do well in school and take advantage of opportunities such as internships, law review, and moot court, ultimately, whether a person is at the very top of their class or has achieved certain status markers in law school does not correlate with their long-term happiness.
That means students should hopefully take the opportunity to see law school for what it is—an extraordinary chance to learn, grow, and develop critical thinking skills, along the path to an interesting, challenging, and potentially fulfilling career.  Students should not ruminate about status markers, if they can help it, as that leads to self-defeat and lack of productivity.  Students should instead chase the courses and extracurricular activities that make them happy and pique their interest.  They may be surprised by what interests come to the forefront, and those leanings may show them the path to a happy career.
At Marquette, an array of practical, skills-based course offerings, mentoring opportunities, and academic success programs increase students' sense of competency and provide autonomy support.  Eckstein Hall's open-concept design also encourages students to connect with each other and faculty, fostering relationships among those in the building.