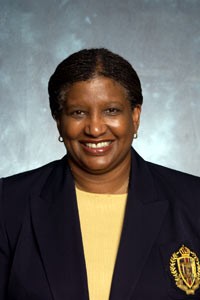 This past summer, Professor Phoebe Williams received the 2015 Lifetime Achievement Award from the Milwaukee Bar Association (MBA). Professor Williams was honored at the MBA's annual luncheon in June.
Professor Williams was born and raised in the segregated South, in Memphis. She has said that she remembers when she was eight years old, her father came home from his job as a schoolteacher and told her about the United States Supreme Court decision in Brown v. Board of Education. That decision, of course, struck down segregation in public schools. A young Professor Williams expected to see change immediately; she thought she would be able to go to the schools, libraries, museums, and parks that had been reserved "for whites only." That did not happen. And it took a number of years and the hard work of many lawyers and activists before such change finally occurred.
But a young Professor Williams watched and learned. She credits her parents—both educators—with instilling in her the value of education and of service, and the value of pursuing goals with perseverance and hope. These values she carries with her to this day.
Professor Williams left Memphis for Milwaukee when she enrolled as an undergraduate at Marquette. A decade after her graduation from Marquette, she returned, but this time as a law student. After four years in private practice as a labor law attorney, Professor Williams joined the faculty at MULS. In her tenure at MULS, she taught a variety of courses: agency law, business associations, employment discrimination law, history of women lawyers, labor law, and race and gender discrimination in economic transactions. She's published a number of articles and given a plethora of presentations.
She's also been very involved in her community, whether that community is Marquette University, the law school, the bar, the legal academy, or Milwaukee and the state generally. To name just a (very) few of her many service activities, she served as the chair of Marquette University's Task Force on Gender Equity. She was appointed by then-Superintendent of Public Instruction Herbert Grover to the P-5 Advisory Council, which oversaw the P-5 Program, a grant program that targeted supplemental funding to elementary schools enrolling large numbers of economically disadvantaged students in Wisconsin urban areas. She was also appointment by then-Governor Tommy Thompson to the Governor's Task Force on Racial Profiling. She served for five years on the Milwaukee Fire & Police Commission and has been a court commissioner for Milwaukee County Circuit Court. She served as a faculty advisor to the Black Law Students Association, the Labor and Employment Law Society, and the moot court team for the Wagner Moot Court Competition.
Professor Williams stopped teaching at the end of the 2013-2014 academic year, and has assumed emerita status. She has inspired generations of students and colleagues with her faith, her perseverance, and her resolve. Congratulations on your award, Professor Williams!