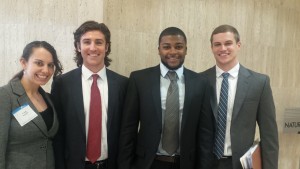 Thirty-three teams from across the country arrived in Brooklyn at the United States District Court for the Eastern District of New York on February 18, all prepared to present oral arguments in the National Appellate Advocacy Competition regional. Only four would advance to nationals. One of those four will be from Marquette Law.
First, 3Ls Ian Kalis, Hiriam Bradley, and Alexander Perwich (in the first picture from left to right, with their practitioner coach Elleny Christopolous) advanced into the fourth of five rounds, but lost in that round against the fourth seed team. However, the MULS team's brief was named third best in the region. They were assisted by practitioner coaches Elleny Christopolous, Sarah Knutson (L'11), and Zachary Willenbrink (L'11).
Second, 3Ls Cassandra Van Gompel, Daniel Murphy, and Arial Rosenberg (in the second picture from left to right) argued their way into the fifth and final round. In one earlier round, both Murphy and Rosenberg had earned perfect scores from one of the judges. In the fifth and final round, Murphy and Van Gompel argued off-brief against the top seeded team in the region, defeating them to become one of the four teams to advance to the NAAC national competition April 7-9 in Chicago. Murphy was named top oralist in the region. This team was assisted by practitioner coaches Jesse Blocher (L'06), Michael Cerjak (L'08), and Adam Koenings (L'13).
Congratulations to each team member for his or her outstanding representation of Marquette Law. Next stop: Chicago.