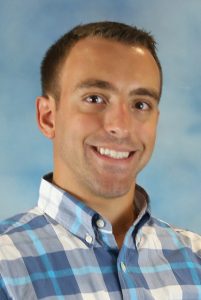 The 24th Annual Howard B. Eisenberg Do-Gooders' Auction on behalf of the Law School's Public Interest Law Society (PILS) will be held on February 17 at the Law School. Proceeds from the event go to support PILS Fellowships to enable Marquette law students to do public interest work in the summer. Ben Lucareli, a current law student, shares his experience here as a PILS Fellow.
Where did you work as a PILS Fellow?
In the HIDTA (High-Intensity Drug Trafficking Area) unit of the Milwaukee County District Attorney's Office.
What kind of work did you do there?
I worked closely with multiple attorneys in the HIDTA unit, helping them to prosecute felony-level drug and gun crimes. During my time in the office, I wrote numerous briefs at the trial court level, conducted legal research for the attorneys, and wrote and filed criminal complaints. I also helped the attorneys sift through evidence, transcripts, and other documents to prepare for trial. Each week, I accompanied the attorneys to various hearings, as well as a few jury trials. During the hearings and trials, I would take notes for the attorneys and help them organize and present evidence to the jury. In addition to my work with the attorneys, I also went on a ride-along with a local police department, and got to work on projects with local police officers and DEA agents.
How was the experience meaningful to you?
My time in the DA's Office allowed me to gain a new perspective on a unique branch of our local judicial system. I was able to work alongside some of Milwaukee's most dedicated public servants, and got to play a key role in some immensely interesting cases. On a larger level, working in the HIDTA unit gave me an opportunity to help the greater Milwaukee community in a way that I would not have been able to do otherwise. Community and public service has always been important to me, and working in a public-sector law office is a way to combine my law school education with top-tier community work.
What did you learn in the course of your work?
During my time at HIDTA, I was able to learn first-hand about criminal procedure, courtroom etiquette, ethical decisions and challenges in criminal law, and about specific criminal legal issues. Writing briefs and conducting research for the attorneys was a great way to dig deeper into criminal law than I was able to in the classroom. The HIDTA unit, and DA's offices generally, are intense, high-energy departments, and they really test your sink-or-swim mentality. Working with HIDTA also taught me about some of the important drug-related issues facing the Milwaukee community, and the greater United States.
What do you like best about doing public interest law work?
Overall, working as PILS fellow allowed me to put the knowledge gained in my 1L year to use in a practical way, and gave me a truly hands-on experience at a relatively early point in my law school career. My PILS fellowship gave me a very diverse experience that has greatly benefitted me, and has helped me to better align my career goals. More generally, government work as a law student is an extremely rewarding opportunity. At the end of the day, it allows students to feel like they are doing some good in this world, even before we're members of the bar. It's a feeling of contributing to the betterment of something much larger than ourselves, and that's what PILS is all about.
What are you doing to help with the PILS Auction?
Since the beginning of the 2016-2017 school year, I have been working as a Solicitations Leader, leading solicitation outings in the Milwaukee area with other PILS fellows (and prospective fellows). On the day of the auction, I'll be helping to set up during the day, and of course, attending the auction at night.