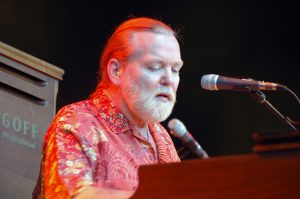 It is my impression that a good rock 'n roll band can help a lot in law school.  If listened to at the "appropriate" volume, the band can reduce the stress of the first year and relieve the tedium of the second and third years.
My band during law school was the Allman Brothers Band.  It released an extraordinary string of vinyl albums in the early 1970s, with "Eat a Peach" (1972) being my personal favorite.  My friends and I didn't think of the Allman Brothers as progenitors of southern rock but rather as countercultural southern musicians able to blend the blues, jazz, and even a little country.  The Band compared in our minds to Cream, Jimi Hendrix, and, of course, the Grateful Dead.  And who knew that an aspiring Georgia politician named Jimmy Carter was also a fan of the Band's incredible improvisational jams?
The Allman Brothers song that I played the most was "Whipping Post."  Gregg Album wrote the song and also sang the lead vocal.  Its studio version appears on the Band's debut album, but even better is the live version on "At the Fillmore East" (1971).  I realized from the start that the song was about lost love, but I chose to think of it in relation to my existential condition:  "Tied to the whipping post.  Good Lord, I think I'm dying . . . ."
During the 1970s, the Allman Brothers Band lost two of its original members in separate motorcycle accidents.  (The Band members loved Harleys.)  Afterwards, Gregg Allman struggled to hold the Band together, but alcohol and drugs were mean nemeses.  He also had six marriages, including an ill-fated and much-ridiculed union with Cher.  But still, he continued to make music and to tour.  Elise Papke and I caught his tremendous performance at the Northern Lights Theater in the Potowatomi Casino from second-row seats in 2015, and yes, "Whipping Post" was on his play list.
It was with great sadness that I read of Gregg Allman's death due to liver cancer on May 27, 2017.  R.I.P. old friend, and thanks for your help along the way.