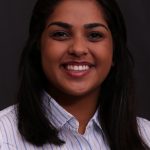 Today, September 26, 2017, the Milwaukee Association for Women Lawyers (AWL) Foundation honored two Marquette University Law School students with scholarships.
Aliya Manjee, 2L (pictured at left), received the AWL Foundation scholarship. The AWL Foundation Scholarship is awarded to a woman who has exhibited service to others, diversity, compelling financial need, academic achievement, unique life experiences (such as overcoming obstacles to attend or continue law school), and advancement of women in the profession. Manjee said her identity as a first-generation student has provided her a unique lens for her legal education. Her parents immigrated from Pakistan and they have always advocated pursuing higher education and serving the community, and these beliefs have inspired her to pursue her legal career to serve as an advocate. She has coordinated a program with three other lawyers that provides drafting of wills and health care powers of attorney to low-income members of the Ismaili Muslim community in Milwaukee. Manjee is also a participant in the Milwaukee Street Law Program, and hopes to eventually work in the public policy arena, focusing on tax policy. Manjee is also a co-chair of the Student Affairs Law School Mentorship program.
Elisabeth Lambert, 3L (pictured at right), received the AWL Foundation's Virginia A. Pomeroy scholarship. This scholarship honors the late Virginia A. Pomeroy, a former deputy state public defender and a past president of AWL. In addition to meeting the same criteria as for the AWL Foundation scholarship, the winner of this scholarship must also exhibit what the AWL Foundation calls "a special emphasis, through experience, employment, class work or clinical programs" in one of several particular areas:  appellate practice, civil rights law, public interest law, public policy, public service, or service to the vulnerable or disadvantaged. Lambert, a former public high school English teacher, is focusing her sights on a career as a legal academic. As a teacher, she said she saw structural barriers that prevented low-income students from achieving more. She wrote a full-length law review article on the effect of poverty on cognition, and that article will be published in the University of Pennsylvania Journal of Law and Social Change later this year. Lambert wants to focus future research on the intersection of human behavior and criminal law. She will clerk for Judge Lynn Adelman (Eastern District of Wisconsin) following graduation.
Congratulations to both women for outstanding service and for their representation of Marquette University Law School.