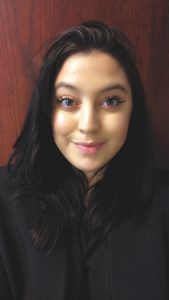 We are pleased to welcome Nicole Muller as our Alumni Blogger for the month of December.
Attorney Nicole A. Muller, of Birdsall Law Offices, S.C., graduated from Marquette University Law School in May 2018, and now spends her hours zealously advocating for her clients as a private criminal defense attorney. Before coming to Milwaukee, she received a Bachelors Degree in Political Science and Studio Art from The Catholic University of America and a Masters Degree from Columbia University. During her time at Marquette, Attorney Muller worked on issues surrounding the impact  that cash bail programs have on Milwaukee's and Wisconsin's  urban poor, as well as ways to address racial discrepancies in American courtrooms.  A native of New York,  Attorney Muller states that she decided to stay and practice law in Wisconsin because "the beer was just too good to leave behind . . . oh, and due to the serious issues that need to be addressed within the criminal 'justice' systems of Milwaukee and greater Wisconsin."
We look forward to reading your posts!