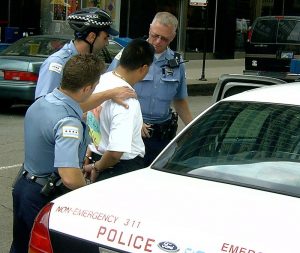 It's no secret that Wisconsin has long been known for having some of the most lenient drunk driving laws in the country. Throughout the spring semester I saw firsthand just how limited the consequences can be—compared to other states like my native Illinois—as first-time offenders were simply cited for ordinance violations in Milwaukee Municipal Court and not charged criminally. However, there have been efforts in recent years to crack down on drunk driving in a state famous for its beer. State legislators have passed a number of measures to deal help law enforcement, and this past week one such measure found itself before the United States Supreme Court.
In its decision in Mitchell v. Wisconsin, the Court upheld Wisconsin's implied consent statute and ruled that states are not restricted from taking warrantless blood samples from unconscious drunk-driving suspects by the Fourth Amendment.
In 2013, Mr. Mitchell was arrested in Sheboygan Wisconsin after police, who were responding to reports of an intoxicated driver, found him drunk and disheveled at a local beach. Mitchell stated that he wound up there after he felt too drunk to drive. The officer decided not to preform sobriety tests at the scene because Mitchell's condition would have made it unsafe to do so. Instead, a preliminary breath test was administered with a resulting BAC of 0.24. While being transported to the police station Mitchell's condition deteriorated and he was eventually taken to the hospital. Upon arrival, Mitchell was completely unconscious. He was then read the standard Informing the Accused form and a blood sample was taken, all without him regaining consciousness. That sample indicated a BAC of 0.22. While consent to a blood draw is normally withdrawn when the Informing the Accused is read—a form that actually asks if the subject will submit to an evidentiary test—Mitchell was obviously unable to withdraw consent in his condition.
But why was Mitchell required to withdraw consent in the first place? Shouldn't law enforcement require affirmative permission to search someone's blood without a warrant? Not under Wis. Stat. 343.305(2) which was at issue in the case. According to the statute:
"Any person who . . . drives or operates a motor vehicle upon the public highways of [Wisconsin] is deemed to have given consent to one or more tests of his or her breath, blood or urine, for the purpose of determining the presence or quantity in his or her blood or breath, of alcohol."
Furthermore, under part (3)(b), "a person who is unconscious or otherwise not capable of withdrawing consent is presumed not to have withdrawn consent."
After Mitchell challenged the blood test and had his motion to suppress denied, he was convicted of an OWI and subsequently brought an appeal challenging the constitutionality of the statute. The statute was upheld at both the appellate and state supreme court levels. Tuesday, the United States Supreme Court followed suit.
In writing the majority, Justice Alito placed a heavy emphasis on the exigent circumstances exception to the Fourth Amendment, which in this case allows for a warrantless search to "prevent the imminent destruction of evidence" which occurs as alcohol is metabolized into the system. He also wrote that enforcement of drunk driving laws through such means serves the important purpose of "enforcing laws that save lives."
While this may seem like extremely broad authority to conduct warrantless searches, it is hardly a novel approach and many states have similar implied consent laws on the books. I think most would agree that taking steps to help law enforcement deter drunk driving is a worthwhile endeavor; however, under the surface of this opinions is much more sinister threat to our Fourth Amendment protections.
Judge Gorsuch in his dissent correctly pointed out that the Court did not address the constitutionality of the implied consent laws at issue and instead created an almost blanket presumption of reasonability given the typical exigent circumstances of drunk-driving investigations.
By not grappling with the reasoning employed by the majority at the Wisconsin Supreme Court, it seems that Justice Roggensack's majority is destined to remain intact as it relates to the state's ability to create statutes implying consent. This is extremely troublesome given her reliance on Colonnade Catering Corp v. United States, 398 U.S. 72 (1970), in considering the totality of the circumstances that render a warrantless search reasonable. Under the standard set forth in Colonnade, the reasonable expectation of privacy inherent in the Fourth Amendment is eroded when the enterprise is sufficiently regulated by the government. But in other, more frightening words, a warrantless search is reasonable if the legislature says it is. Originally, the consent to warrantless searches was provided as a condition of the privilege to sell firearms; however, by refusing to overturn the court below, the Supreme Court has signed off on applying "pervasive-regulation" to warrantless searches to the privilege of driving on public highways as well. But as Justice Kelly warned in his dissent at the state supreme court level, there seems to be no reason to suggest that the limitations on Fourth Amendment protections stop there. By allowing the state to create implied consent statutes in any area which it regulates, it seems that the state has full authority to limit the warrant requirement by simply regulating a particular privilege enjoyed by the citizens of a state, which seems to include more and more elements of our daily lives. Applying the doctrine as in the instant case "would sweep away a large body of Fourth Amendment jurisprudence[.]" 2018 WI 84, ¶72.
Today I am critical of the majority decision in this case which further limits our Fourth Amendment rights at a time when our expectations of privacy are already shrinking by the day. The exigent circumstances involved in drunk-driving investigations are certainly worthy of consideration, and I don't imagine too many people will be outraged when blood is involuntarily taken from an unconscious suspect during an investigation of his 7th OWI, but by failing to acknowledge the unchecked limitation of Fourth Amendment protections by the creation of implied-consent statutes, the Supreme Court  has given the states a blank check when it comes to future warrantless searches.
Photo credit: Grendelkhan [CC BY-SA 4.0 (https://creativecommons.org/licenses/by-sa/4.0)]