We're about to complete two weeks of teaching and learning in our new online environment, and it seems to have gone pretty well. Lots of sharing of pets, and no one has turned themselves into a potato.
The Law School, like the main university, supports the use of Microsoft Teams. While Teams doesn't (yet) allow us to use fun background images, it also hasn't been hacked during any class time.
Law School professors have found myriad ways to use Teams: they've been able to share their PowerPoints; demonstrate online researching in legal databases; create discussion rooms; and post notes, questions, and other files. Some professors record their classes and then post them, others go "live"; still others combine both methods. Natalie Sobierajski (2L) noted she likes the Teams function that allows the sharing of Powerpoints. "[T]he sharing option has made it easier to take notes than expected."
We've learned how to mute and unmute our mics, use the chat bar, and even create spontaneous polls. Adjunct Professor Rick Sankovitz said, "I used the poll function to good effect. We [had] just finished a discussion of negotiation ethics and [completed] a negotiation exercise in which one side of the encounter is tempted to conceal or misrepresent material facts. It was revealing for the class as a whole to see how loosely or strictly the ethics rules can be interpreted depending on the circumstances."
Naturally, there's always one person who's ahead of the curve. For us, that person is Professor Chad Oldfather. He's used GarageBand "to put together some really basic (and basically bad) theme music for [his] Con Law classes." He said, "[O]ne of the next big decisions I face is whether to stick with it through to the end or instead to come up with something new. I really don't know." (Students: I'll bet if you weigh in, you can persuade him one way or the other.)
Of course, none of this online teaching has gone without a few hiccups. Professor Scott Idleman reported making an audio recording on high speed. He said, "I sounded like a chipmunk on a lot of caffeine but fortunately I caught it before uploading it to Teams." And Professor Bruce Boyden accidentally deleted 45 minutes' worth of recorded audio when he deleted the "weird symbols on the bottom right corner of every [PowerPoint] slide. Oops."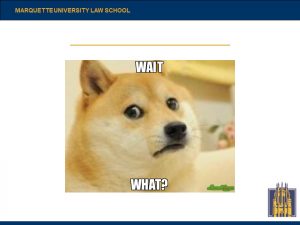 While most professors may be using Teams, they may also be using D2L, TWEN, Zoom, or YouTube. Different professors' use of different platforms can be difficult for students who have three or four professors this semester and have to remember which professor is using what. As one 2L admitted, "Trying to stay on track [with] what platform I will be using and on what day has been difficult."
Additionally, online instruction on any platform requires an ability to access the internet. As we all know, internet connections can be spotty even in normal times and may be even more so when the entire nation tries to work and learn from home. Another 2L said, "This week during one of my online classes I had network problems and I couldn't sign in at all, so I missed an entire class [that is scheduled] only once a week."
Moreover, it's not just that we've moved to online teaching and learning. It's also that we've had to adjust our teaching or learning from a new environment: home. On the positive side, teaching and learning from home reduces the commute, minimizes the parking hassles, and shortens the time needed to "get to class." As Jazmin Ramirez Bailon (2L) said, "I can wake up 5 minutes before class and be right on time."
But for many, teaching and learning from home is the biggest obstacle of all. Matthew Rademacher (1L) lamented, "I've come to learn that working from home isn't the dream come true I had always thought it was. [Before,] I had a system worked out to keep me organized and on track, but that went out the window when we switched to online, so it's been more of a struggle to try to get everything done and learn what I think I'm supposed to be learning."
Professors and students alike are working and studying from homes that they're sharing with their partners or children. Those partners also may be working from home, creating challenges for finding multiple work spaces and figuring out computer, printer, and internet use. Jake Rozema (3L) said, "[I]t has been a bit of an adjustment trying to share space in our tiny apartment and internet bandwidth with my wife, who is also working from home."
Further, younger children need constant care and older children need to be schooled. Jay McDivitt (2L) is one of the many students who is balancing his own studies with schooling his two children, a 7-year-old son and an 11-year-old daughter. He said, "I'm sitting here in my jammies, listening to a recorded lecture about Law and Religion through my headphones, cuddled up with my also pajama-clad 11-year-old daughter, who is identifying polygons on her iPad, and my nearly 8-year-old son, who is reading a book about farts–because he's 7." While the scenario McDivitt described sounds the picture of family togetherness, any parent knows it doesn't always start or stay that way; McDivitt acknowledged, "This morning, there was more stomping of feet and slamming of doors than I generally like to experience before 9 AM."
Professor Jake Carpenter and Professor Andrea Schneider both noted the challenges of working from home with children at home. Professor Carpenter said his home office has been "taken over" by his three kids, so he's set up a temporary office in his basement. Aside from being relegated to his basement, Professor Carpenter found it "impossible in a house with four other people and two dogs" to record his PowerPoint lectures. Instead, he records between 11 PM and 2 AM, "when the house is finally quiet."
Professor Schneider has posted a sign on her home office door: "TEACHING CLASS. DO NOT COME IN (or be prepared to be introduced to 54 students)."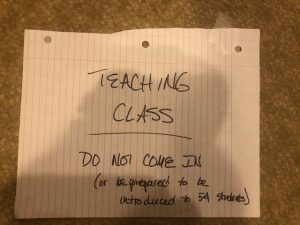 The sign, she said, "has thus far successfully kept my sons from walking in [during classes], but we are only three classes in." (A colleague of mine at another school posted the sign "Mommy Is Not Here" on her home office door.)
Probably the biggest winners of the move to teaching and learning from home are dogs, cats, guinea pigs, birds, fish, and bearded dragons. Their people. Are. Home. More than one student has lovingly complained about their new study buddies. Rozema observed that his "new classmate doesn't really pay attention and sleeps through all of our classes." Another student's guinea pig was pictured inches from the laptop screen where Professor Oldfather was presenting his constitutional law class. Rademacher's cat Winston sits on his open textbooks, "helping the only way he knows how." Will Olson (1L) said he has learned that he concentrates better if he sits at a desk or table, which is just as well because his two dogs have claimed the comfortable couch space.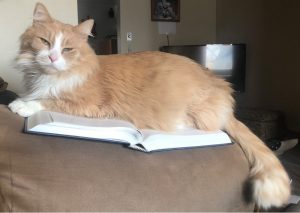 Yet, despite the challenges, a spirit of togetherness infuses our online Law School environment. Some are more adept than others at navigating online technologies and even those who get it have their "oops" moments. Across the board, there are examples of all of us helping each other. Professor Carpenter said, "[T]his experience has reminded of how fortunate I am to have such great, helpful, fun colleagues. Through many small Teams meetings, we've helped each other troubleshoot, figure out what we're doing wrong, and practice using the new online platforms. In some ways, it's been kind of fun to attack this challenge together."
Zach Lowe (2L) most eloquently captured this spirit: "The best thing that I have seen during this first week of virtual learning is the interaction between the students and the professors. I am not talking about the material we have been learning, but just the general sense of mutual understanding and unity toward the common goal of successfully completing the rest of the Spring 2020 Semester."
Lowe continued, "Professors have been ready to accommodate any student needs, and students have been ready to lend a helping hand if the professors had any technical inquiries. These are just two examples of the countless displays of synergy I have seen between the two sides. It really speaks to the strength of our community and the respect/care the students and professors have for one another."
The 2L whose technical difficulties meant she missed her weekly class would likely agree; the student said, "I emailed my professor and he was very understanding of the situation." Adjunct Professor Ellen Henak chipped in, "I never thought before that I would consider it a great compliment when a student told me, 'You are a breath of normalcy. Thank you.'"
And, students, believe it or not, we miss you. Professor Schneider said, "I miss their faces and I mind that Teams only lets us see four at a time." When I've done live classes, I have so hoped my students would unmute their mics and turn on their cameras so I can hear and see them because then I'll really feel like I'm in class. Professor Carpenter added, "I didn't realize how good it would feel to hear the students' voices again and be able to chat with them. After a week of stressing about how to adjust to online, taking tons of time learning the tech and making mistakes, finally chatting with the students over Teams totally re-energized me. And it made me feel like things are going to be alright. Different, but it will work out in the end."
Many professors have found ways to connect with their students outside of "class." Professor David Strifling invited his students to a "virtual lunch," where they "informally swapped stories about quarantine and met each other's famil[ies] and pets." Professor Kali Murray changed her weekly Koffee Klatch sessions with her Property students to weekly Happy Quarantine Half Hours. "The first week I had 30 students," she said, "But it has calmed down to my usual 8-10 students. We have had a rollicking good time kvetching about what confronts us as teachers and students in an unusual time."
And "an unusual time" it is. The abrupt switch to online teaching and learning in an educational environment that has long operated on in-person instruction with a very specific pedagogy (think Socratic method) is a bit jarring—for professors and students alike. But humans are resilient: what is new today may be old tomorrow. As Professor Oldfather mused, "[I]t's striking to me how quickly the extraordinary becomes the new normal, which in turn becomes just normal. Although I've certainly had to rethink how I approach the material I'm teaching in light of the changed medium by which I'm teaching it, it's already started to seem like 'just what I do.'"
The end of the semester—and of this unusual moment in time—is near. Be safe and healthy. And stay safer at home.