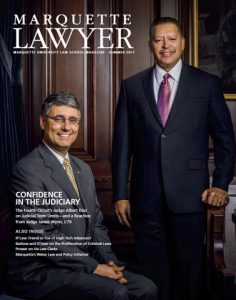 Two pairs may not be the most powerful hand in poker, but they are definitely a winning combination for the Summer 2017 edition of Marquette Lawyer, the Marquette Law School magazine.
One pair in the magazine focuses on how long U.S. Supreme Court Justices should serve and, more broadly, how to assure confidence in the judiciary. Judge Albert Diaz of the U.S. Court of Appeals for the Fourth Circuit focused on this in the E. Harold Hallows Lecture he delivered at Marquette Law School in 2016. The magazine offers a lightly edited text of the lecture by Diaz, including his advocacy of ideas he presumes that few of his fellow judges would support. Paired with the text is a comment from Diaz's colleague on the Fourth Circuit, Judge James Wynn, L'79. An interview and profile of Wynn accompany his comment. The Diaz text may be read by clicking here and the Wynn comment (and interview) here.
The other pair in the magazine offers provocative insights from two people who play leading roles in the tech world. Brad Smith, president and chief legal officer of Microsoft, made two appearances at Marquette Law School on November 15, 2016, delivering the Helen Wilson Nies Lecture on Intellectual Property and participating in an "On the Issues with Mike Gousha" program. A selection of his thoughts may be found by clicking here.
Ted Ullyot is currently a partner at Andreessen Horowitz, a leading venture capital firm in Silicon Valley, and he was formerly general counsel for Facebook—indeed, the lawyer who led the company in the process of going public. An edited version of Ullyot's remarks at the Law School in a Helen Wilson Nies Lecture in April 2016 may be found by clicking here. 
The new Marquette Lawyer also offers two pieces that form somewhat of a third pair. Each looks at aspects of the issue of mass incarceration. Marquette Law Professor Michael O'Hear is author of a recently published book, Wisconsin Sentencing in the Tough on Crime Era: How Judges Retained Power and Why Mass Incarceration Happened Anyway. An excerpt, "Wisconsin's War on Drugs: The Cocaine Front, 1986–1990," appears in the magazine and may be found by clicking here.
Rachel E. Barkow, the Segal Family Professor of Regulatory Law and Policy at New York University School of Law, delivered the George and Margaret Barrock Lecture on Criminal Law on October 25, 2016. An edited text, titled "Prisoners of Populism: Understanding the Politics of Mass Incarceration," is available by clicking here.
In his 18 years on the Wisconsin Supreme Court, Justice David Prosser made it a practice each year to pick a graduate of Wisconsin's two law schools as his clerk. That included nine Marquette Lawyers. Marquette Law School thanks him for the opportunities he provided these graduates with an article in which Prosser recalls the clerks and reflects on their work with him. To read it, along with this issue's selection of Class Notes about Marquette Lawyers, click here.
The magazine also includes a selection of pieces written by David Strifling, director of the Law School's Water Law and Public Policy Initiative, for the Law School Faculty Blog. It may be found by clicking here.
Dean Joseph D. Kearney announces in his column the new Lubar Center for Public Policy Research and Civic Education, being launched with a gift of $5.5 million from Milwaukee philanthropists Sheldon and Marianne Lubar. That will be joined with a previous Lubar gift of $1.5 million to create a $7 million endowment to support public policy initiatives. The column may be found by clicking here. The magazine also includes remarks from Dean Kearney at the investiture of Milwaukee County Circuit Judge Cynthia M. Davis, which are available here.
The Law School News section of the magazine offers a profile of Bria Kelly, who has finished her second year at Marquette Law School after choosing to go to the north, from her Florida home, for law school; a story on Marquette law students who are working in the new Eviction Defense Project that assists some of the people facing eviction in Milwaukee; and a report on what Yale historian Timothy Snyder, an expert on causes of the Holocaust, said during an "On the Issues with Mike Gousha" program. The articles, in this order, may be read by clicking here.
The 100th anniversary of Marquette basketball is honored with a piece focusing on the time in the 1940s when Marquette lawyer and benefactor Ray Eckstein played on the team, including a game in which he guarded basketball legend George Mikan. It can be read by clicking here.
In a first for Marquette Lawyer, we are asking lawyers to give their thoughts on a major legal matter to be described in an upcoming magazine. The back cover of the magazine focuses on the fact that civil trials in Wisconsin have declined by 50 percent since 2004. "What does that mean? the text asks. "We want to hear from you." The text, which can be found by clicking here, invites people to submit their views.
The entire issue may be found by clicking here.